Experiments in English sparkling wine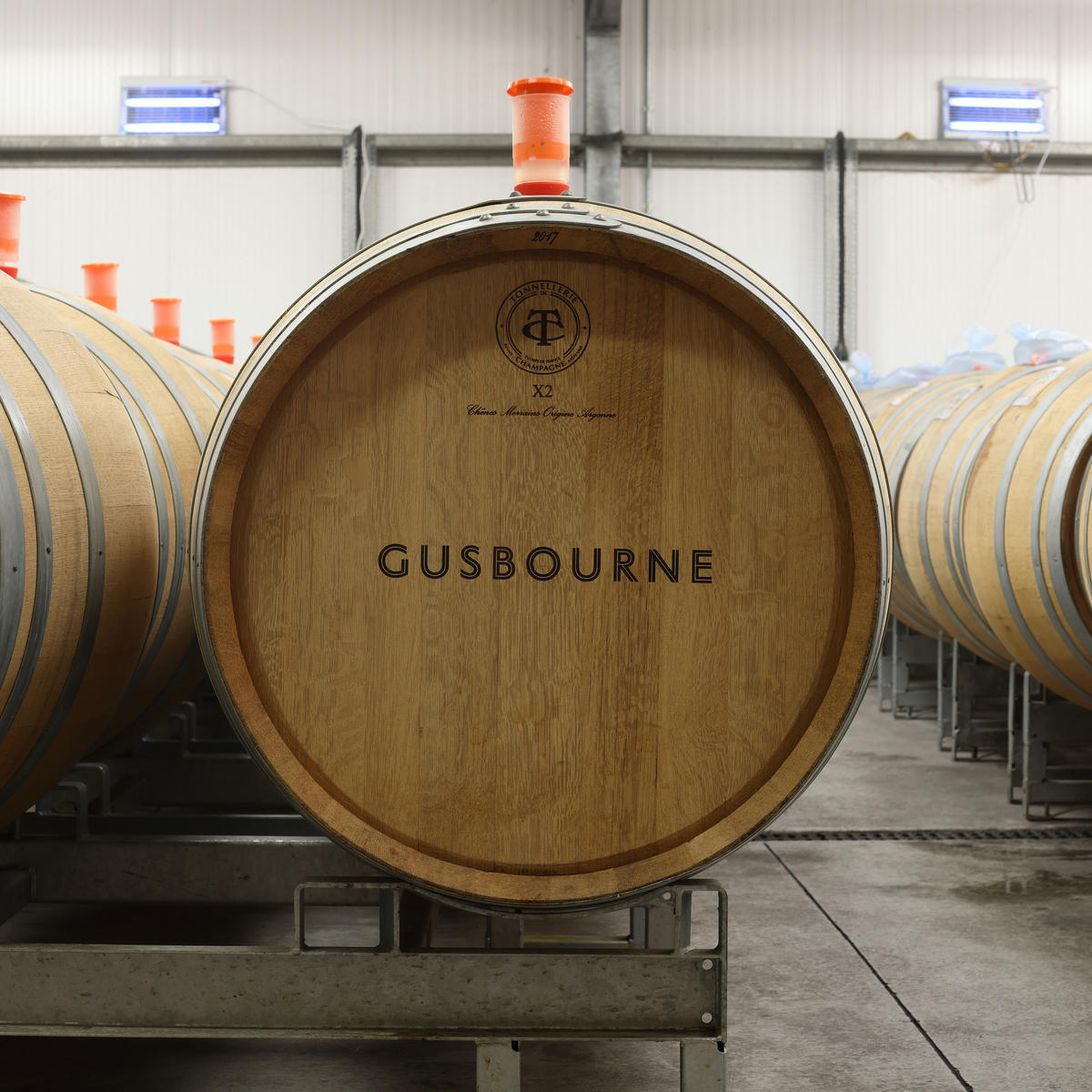 Having planted its first vines in 2004, Gusbourne is a stalwart of the English wine world. Renowned for its vintage sparkling wines, Gusbourne's winemakers continue to experiment with new techniques and ideas. Here, Alexandra Gray de Walden delves into this Kentish Aladdin's cave of yeasts, tanks and latitude.
The quiet country lanes of Kenardington are flanked by brick and flint cottages, privet hedging and of course, Kentish oast houses. This is the physical embodiment of a "chocolate box" English village.
Heading out of the village towards Appledore, Gusbourne's winery sits nestled next to Butness Wood overlooking a seven-mile vista down to Romney Marsh. All is peaceful and serene in this 200-hectare estate. But belying the tranquillity of its location, Gusbourne is a bustling hive of exciting activity.
Gusbourne is known for producing vintage-only wines, predominantly sparkling. The focus on one vintage showcases the personality of each chosen year. The blending skills of Gusbourne's winemaker Charlie Holland have a Willy Wonka-like magic to them and operations here are an explicit marriage of art and science. "We try to be consistent and scientific in what is a very unscientific process" he says.
Fifty One Degrees North
The team doesn't just produce single-vintage wines. Since 2017, Gusbourne has also been producing single-vineyard cuvées and in 2013, bought additional vineyard land in West Sussex. The Fifty One Degrees North cuvée is named after the latitude coordinates of Gusbourne's Kent and Sussex vineyards which make it. Gusbourne's website describes it as "an expression of place, of a moment in time and of modern English winemaking". It has oft been said that part of the magic of opening a bottle of vintage wine is tasting the world as it was in that year.
The bright citrus notes of Fifty One Degrees North are revitalising and well integrated. This was even evident in the tank sample I tasted on a recent visit. The blend tends to be about two-thirds Chardonnay and one-third Pinot Noir. The wine is matured in oak which softens it, giving it a rounded mouthfeel and adding subtle flavours. "You push until you can taste the oak and then dial it back", Charlie tells me. "There's room for some experimentation".
The 2014 was the first vintage of Fifty One Degrees North – Gusbourne's prestige cuvée – to be released. It sat on the lees for six years prior to bottling, adding further complexity and body to the final wine. Plus, of course, those classic autolytic notes of brioche and cream associated with sparkling wine – particularly those made using the traditional method or "Méthode Champenoise", as at Gusbourne. In the Champagne region, the method even has UNESCO heritage status, such is its importance and quality.
The Traditional Method
As the zenith of English sparkling wine marches on and inevitable comparisons with Champagne become more commonplace, what are these other similarities? How is English Sparkling wine made? What is the traditional method?
The grapes for traditional method sparkling wines are harvested earlier than those for still wines, to retain that much-needed acidity. This extra acidity gives the wines balance, longevity and ensures the alcohol levels are not too high. They are then pressed as whole bunches and fermented into a still wine (a "base wine"). Fermentation can take place in temperature controlled, stainless steel tanks or oak – depending on the desired house style or the winemaker's preference. Gusbourne uses a combination of both for its wines. Furthering the focus on "place", Gusbourne's Chief Vineyard Manager Jon Pollard has even had a barrel made from oak from nearby Butness Wood.
Once the base wine has fermented to dryness, this is often the point at which reserves of base wines may be blended to produce a cuvée. Charlie is always wondering "What if?" With so many different vineyards, grape varieties and fermentation vessels, the variables at play are almost infinite.
I ask Charlie how on earth he monitors and records the recipes and results of these myriad blending experiments.
"Spreadsheets" he answers. "Lots and lots of spreadsheets."
When that perfect blend has been found, the wine is put into the bottle it will eventually be sold in and the second fermentation takes place. It is this second fermentation in bottle which distinguishes the traditional method of sparkling wine production. A mixture of sugars and yeasts (liqueur de tirage) is added to commence the second fermentation and as the yeasts convert sugars into alcohol, they produce carbon dioxide. This trapped carbon dioxide is what forms the bubbles and the pressure in a sparkling wine.
After fermentation, the yeast deposits are captured in the bottle as sediment, known as "lees". In the case of Fifty One Degrees North, leaving this sediment in the bottle for six years adds creaminess and beautiful biscuit and crumb flavours to the wine.
Next comes the process of riddling. Over a period of weeks, the bottles are slowly inverted so the dead yeast cells gather in the neck, making it easier for them to be removed. To remove this collection of sediment, the wines are disgorged. The neck of the bottle is immersed in a freezing brine which quickly freezes the yeast sediment (the lees). The cap is then removed, complete with the frozen plug of sediment before a little wine and sugar mix (liqueur d'expédition) is added. This determines the eventual sugar levels of the finished wine, thus determining its style such as Brut or Demi-Sec, for example. Finally, the bottles are sealed with a cork, caged and labelled ready for sale.
As well as experimenting with different blending recipes and vineyards, Charlie is exploring different styles of wine. Gusbourne has a selection of still wines made with Chardonnay and Pinot Noir and Charlie and his team are trialling wild fermentations and barrel selections with them. Of course, there is a still, dry rosé in their arsenal too.  Long disgorgements, cork ageing, varied fermentation vessels; if there's a variable to be tested then Charlie and his team will find it (and put it in a spreadsheet, of course). Just to ensure no stone is left unturned, they have even produced a sweet wine named Chardonnay RS180, exclusively offered at the winery's restaurant, The Nest.
Comparisons with Champagne remain. But it may not be too long before we are flying the home-grown flag for all styles and types of wine production. Cheers to that.