Bordeaux 2022 En Primeur tasting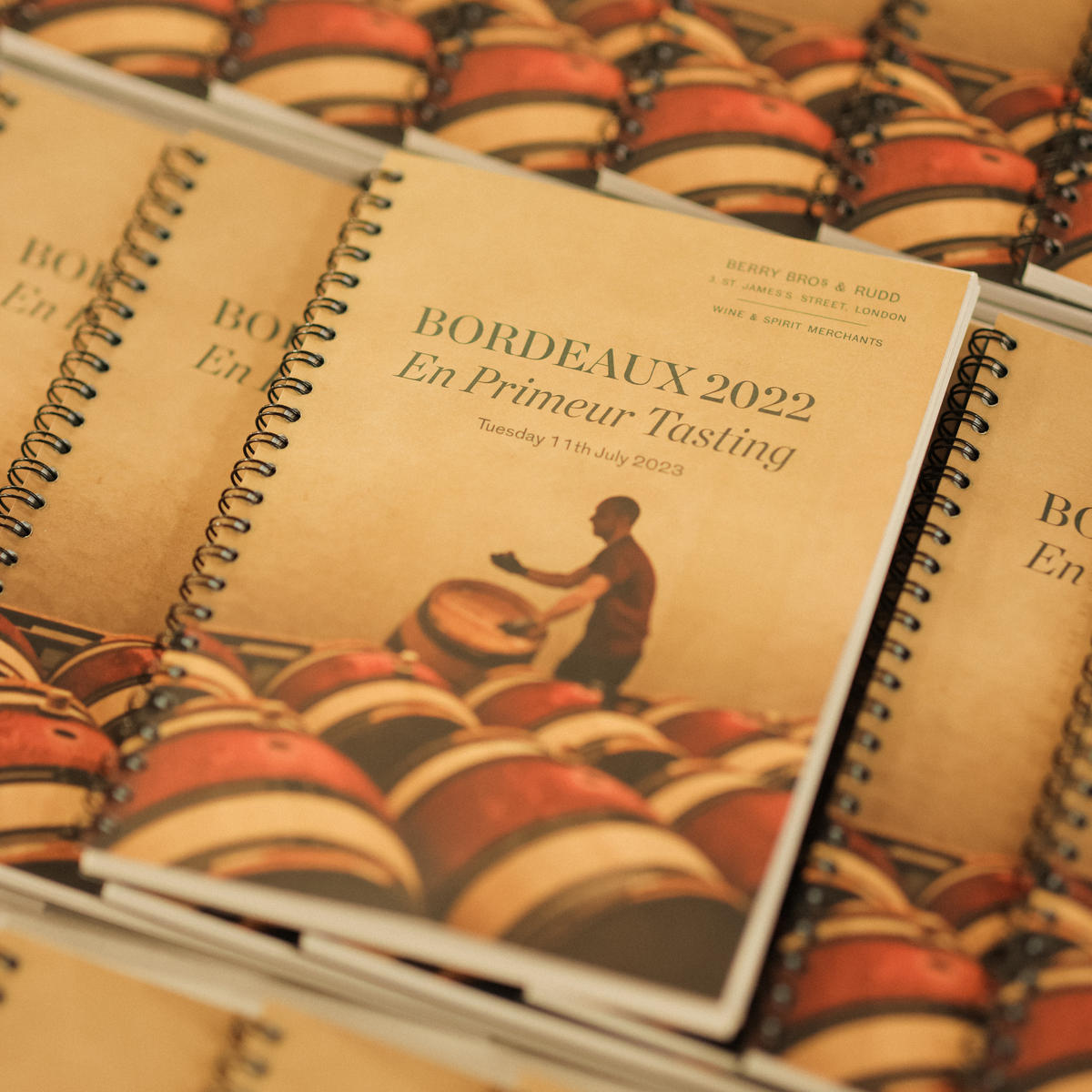 As part of our Bordeaux 2022 En Primeur offer, we brought 400 customers and almost 60 producers together for a tasting of both the new wines and some older vintages. Alexandra Gray de Walden reports on how the evening unfolded.
On Tuesday 11th July, The Royal Horticultural Society's Lindley Hall played host to our Bordeaux 2022 En Primeur customer tasting. The hall was opened in 1904 by King Edward VII and built to house exhibitions of exotic and tropical botany. I'm sure the infamous royal bon viveur would have approved of it welcoming a wealth of fine Clarets 118 years later.
After the hubbub of opening bottles and presenting tasting booklets and pencils for customers, a brief calm descended upon Lindley Hall. Our visitors from Bordeaux greeted one another as the good friends they are and our stage was set to welcome our customers to enjoy vintages old and new.
Vintage variation
The primary focus of the tasting was the 2022 vintage. Offered "En Primeur", these wines are still in barrel, in cellars, quietly maturing. Our En Primeur offer had been in full swing for a few weeks already with customers making their purchases. This tasting provided an opportunity for them to sample the new, young wines.
As well as showing the 2022s, producers also brought a back vintage with them to taste alongside. This is a wonderful way of displaying how the wines change and evolve with age and crucially, how the 2022s will taste when customers open them in five to 10 years. Most producers chose to show the excellent 2015 vintage as their comparison with a few choosing the 2016 or 2017.
Ed Howell, Account Manager explains, "I found it fascinating to try the Pape Clément 2022 and 2015 side by side, given the blend was exactly the same. You could gain a real understanding of how the wine evolves over time."
"It was great to taste these wines again back on home turf," Olly Hallworth from our Bordeaux Buying Team tells me. "In Bordeaux in April, I was concerned my notes would be skewed by the charm of these properties."
More than just red wine
Almost 60 producers were present at our tasting, representing many of Bordeaux's appellations including St Emilion, Pomerol, Margaux and Sauternes. Although the region is mostly renowned for its red wines, there are many delightfully fresh white wines and beautifully luscious, sweet wines produced in Bordeaux.
"The dry white highlight for me was the 2022 Domaine de Chevalier Blanc", Ed continues. "It had a delectable salinity and displayed wonderful fresh fruit notes, particularly elderflower."
The 2022 vintage was remarkably challenging for winemakers in Bordeaux – the hottest and driest for over 60 years. "The power, complexity and remarkable freshness the majority of producers have achieved with this vintage is really impressive, especially given the extremely hot summer they experienced", Olly continued.
A popular favourite of the evening was Pomerol's Château La Conseillante, which was mentioned by every colleague I spoke to. Its 2022 was full of floral flavours of violet and roses with a crunchy, cranberry lift to the mid-palate. It was showing so magnificently on the evening that other producers were spotted, furtively sneaking off to taste it for themselves.
The generation game
France is one of the world's most historic wine-producing regions and a new generation of winemakers is bringing renewed energy, a fresh outlook and becoming more involved at top properties. Among others on the evening, we welcomed Léa Zuger (Ch. Malescot St Exupéry), Sacha Le Baube (Ch. Gloria and Ch. Saint-Pierre) and Damien Barton Sartorius (Ch. Léoville Barton and Ch. Langoa Barton). There is something very special about the opportunity to taste a wine and talk about it with its producer. Tasting two vintages side-by-side, I was keen to hear from producers if the blends varied and how each grape variety had fared with the challenges of 2022.
A delicious array of cheese and biscuits were provided by La Fromagerie and proved tremendously popular towards the latter part of the evening. As chunks of blue cheese were spread, so too was the crowd of eager tasters at the Sauternes and Barsac table. Just as these sweet wines are a perfect ending to any dinner party, they made an eminent conclusion to our day at Lindley Hall.
To find out more about our extensive calendar of events or to buy tickets, please click here.
For more information on Bordeaux 2022 En Primeur, please click here.