The next generation: Geordie Willis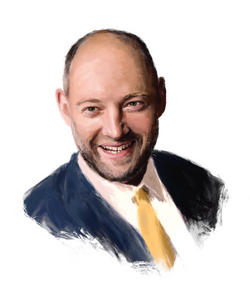 Our new issue of No.3 Magazine looks to the future through the eyes of Berry Bros. & Rudd's next generation. Here, we speak with Creative Director Geordie Willis.
Geordie Willis, Berry Bros. & Rudd's Creative Director, may have been born in the Berry family, but he never felt destined for the business. "Early on, I wanted to work in the magazine world," he says. "It was only when I'd started work experience at a magazine and needed to supplement my income that I applied for a job in the cellars."
Amongst the boxes and the bottles, Geordie began to learn what the business was really about. "It surprised me how quickly I fell in love with it," he says. "There's something extraordinary about Berry Bros. & Rudd; the buildings, the history. There are so many layers."
As it turned out, the cellars were a tough but excellent wine school: "I could identify any bottle by the foil," he says. "And I quickly learned one of the great benefits of working in the cellars: I had the responsibility of opening and decanting some very special wines destined for the Directors' Dining Room upstairs." Checking the wines meant the cellar team were able to taste "extraordinary" bottles.
"It's a tough, physical job, and I was desperate for everyone to think I was a hard worker. But my three years there gave me greater standing in the business."
Finding fresh influences
Geordie's stint in the cellars wasn't followed by a smooth ascent to the boardroom. "One day, Simon, my uncle who was the Chairman at the time, called me up to his office. Normally this meant you'd done something very wrong, or very right," says Geordie. "Simon asked me when I was leaving. It wasn't what I was expecting. As a family member, I thought I had a job for life.
"Simon told me that I needed to work in another industry for at least three years before I could come back to the business. With the new generation coming through, I think he recognised the need to free people from the obligation to work here. The hope was that only those truly interested would come back. Also, he wanted me to gain skills that would allow me to bring something meaningful into the business rather than learn everything from within.
"It felt tough at the time. Like I was being turfed out of a job I was enjoying. But, now I look back, it was the best thing I ever did."
Geordie started work for a creative agency, where he stayed for four years before Simon asked him back. He headed to the Hong Kong office to help develop the brand internationally. "People assume that in a business such as Berry Bros. & Rudd you either work as a wine salesperson, or you don't work in the business. But it's so varied in terms of the opportunities," Geordie explains. "I could've been a chef; on the legal side; in marketing, etc. A family business needs different skillsets from the family, and we've always benefitted from the diversity of thinking between the two families.
"I think the fact we are two families is genuinely one of the secrets to our success. Traditionally, you probably bring a lot of family life into the work arena. And, as we all know, conversations one might have around the dinner table aren't always appropriate for the boardroom. The fact that we are two families means that there is always an inherent respect for the other family involved. There will be challenges and different points of view, but you have to think as one body to make this business work."
Family politics
In practical terms, difficulties seem to get ironed out in the same way as in any family: by talking things through. "We all make an effort," says Geordie. "We have the Owners' Board, so the two families regularly come together to support the business. There is also the Family Council, which is about bringing all the generations of the family together. You want all the family, whether they work in the business or not, to be ambassadors for it. And that works best when they understand it – perhaps more than we did as children."
In business, and beyond, the Berrys and the Rudds are close. "I think of Edward and Lizzy [Rudd] as cousins. I found out from Lizzy recently that her father John was my grandfather's best man. It shows that there was real friendship there as well as a business relationship. And that remains true. The two families are great friends. And to consider that's been true for over 100 years is pretty extraordinary really."
Your name above the door
What, then, are the most challenging aspects of working in a family business? "I think, when your name is above the door, you naturally take everything very personally. But the main thing is this huge sense of responsibility. After being in a business for eight generations, making sure we continue to thrive can feel like a huge responsibility."
Three centuries of heritage is quite something to have on your shoulders. But, of course, it's a privilege too, as Geordie is quick to point out. "You get this immense sense of pride working for a business which has endured for 323 years, so the positives outweigh the negatives every time."
The next 300 years
So how is the business going to take on the next 323 years – and beyond? "Today, we innately know who we are. We're clear what we're going after and we're focused. We're doing things we've done for generations. We are more Berry Bros. & Rudd than we've ever been before. And part of that innate DNA is innovation. We are always looking at ways to do what we do better. We're always looking forward. It would be so easy to rest on our laurels, on our past, but actually, we're on a journey here. And – in so many ways – we're just getting started."
You can pick up a copy of No.3 magazine in our London and Basingstoke shops.