La Place de Bordeaux: a world of wine in our cellars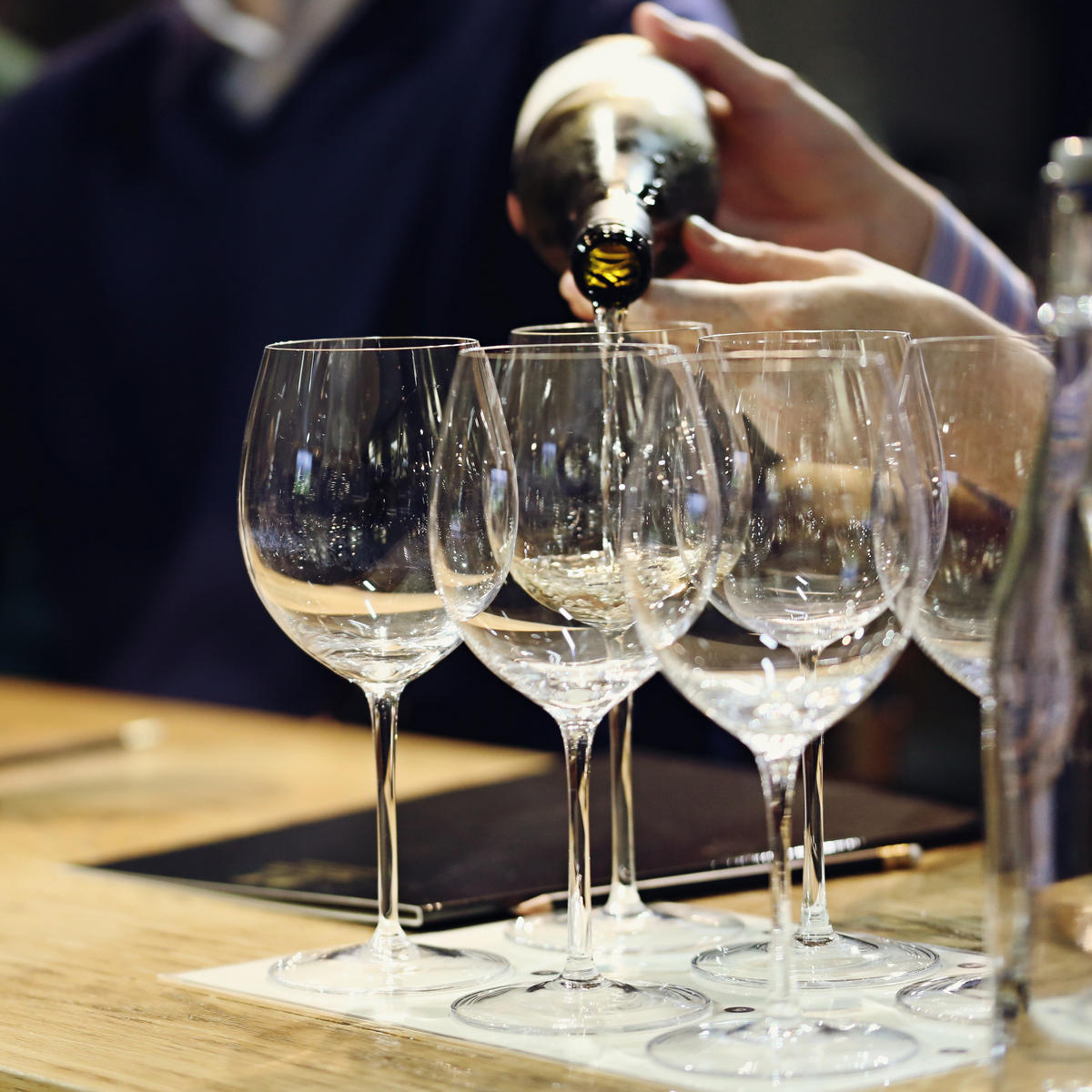 Recently, we welcomed over 40 producers to our cellars for a unique customer tasting. They came from all corners of the fine wine world, from Chile to New Zealand – and many places in between. Their wines are currently being sold via La Place de Bordeaux. Below, you'll find a few highlights from the tasting, giving you an idea of what to look out for in our ongoing offer.
It's a beautiful evening in early September. Down in our Napoleon and Sussex Cellars, a huge selection of wines from around the world are arranged neatly by region, ready to be poured over the course of the evening. The people pouring the wines are none other than representatives from the producers themselves, and they come from regions as varied as Chile, China, New Zealand and Austria. All the wines on offer are currently being sold through La Place de Bordeaux, a sophisticated distribution system that allows wineries across the globe to sell their bottles through the Bordeaux négociants. Over the next few hours, what follows is a lively evening of exchange: customers tasting their way around the cellars and learning about extraordinary new wines straight from the producer. 
Tastings at Berry Bros. & Rudd have a unique sensory richness. The constant glug of wine poured into outstretched glasses; the thrum of chit-chat; hungry fingers reaching repeatedly for slices of charcuterie and cheese, artfully balanced alongside a glass of something delicious. This must surely be one of the best ways to discover new wines. To hop from table to table, spanning continents, hearing directly from each producer on what makes their wine so special (it certainly saves on the cost of an around-the-world ticket).
There were so many fantastic wines to choose from, whether you favour complex whites, elegant reds or golden sweet wines. Many of them were delicious on the night and showed great promise. But despite being all too drinkable now, these are wines made to age. Lay them down for a decade, and your patience will be rewarded with some truly glorious wines.
Five highlights from the evening
Located in the Margaret River region of Western Australia, Cloudburst produces fresh, elegant wines that reflect their lush, rain-swept growing environment. Ultra-low intervention is the philosophy here, and owner-winemaker Will Berliner follows organic and biodynamic methods with great passion.
Cloudburst's 2021 Chardonnay and 2020 Cabernet Sauvignon were both tasting brilliantly on the night. The Chardonnay is already a real treat, with delicious layers of ripe fruit, toast and salted butter. The Cabernet, on the other hand, is pleasingly powerful yet has an almost Burgundian elegance to it. 
Almaviva is a collaboration between Baron Philippe de Rothschild and Concha y Toro, born in 1996 with the goal of producing fine Bordeaux blends in Chile. It is situated in the central Maipo Valley, which is now renowned for the quality of its Cabernet Sauvignon fruit.
The 2021 Almaviva is dark, ripe and spicy, with delicious notes of blackberry, pepper and cigar box. It was especially tasty alongside a cracker heaped with soft cheese.  
Established in 1879, Inglenook is one of the oldest wine estates in Napa Valley (and today owned by Francis Ford Coppola). You might think this makes them veer towards tradition, but Inglenook's wines are remarkably fresh and pure, standing out against the oaked styles of the region. Californian warmth matched with elegant poise.
The 2021 Blancaneaux, the 2020 Cabernet Sauvignon and the 2020 Rubicon were all tasting wonderfully on the night, perfectly demonstrating the estate's philosophy of purity.
Another long-running wine estate, Klein Constantia traces its history back to 1685 – predating Berry Bros. & Rudd by over a decade. Today, it's celebrated for its exquisite sweet wine, Vin de Constance.
The 2020 vintage is made from pure Muscat de Frontignan fruit, and it is utterly delicious. It springs from the glass with notes of dried apricot, fleshy nectarine, honeysuckle, ginger and raisins, shimmering with a regal golden hue. It's a real pleasure to taste.  
Florentine Bibi Graetz was an artist and sculptor before turning his focus to wine, and these creative foundations inform his approach to winemaking. His philosophy is centred on the local grape varieties of Sangiovese, Colorino and Canaiolo, married with an artistic approach and an experimental spirit.
The 2021 Colore and the 2021 Testamatta are both delicious red wines characterised by a wonderful freshness, yet with a beguiling grip to them. Bright red fruits, a touch of salinity and a hint of herbs and spice; alongside a good hard cheese, they are gloriously drinkable.  
Browse all the latest releases from La Place de Bordeaux here