Wines for a Coronation weekend lunch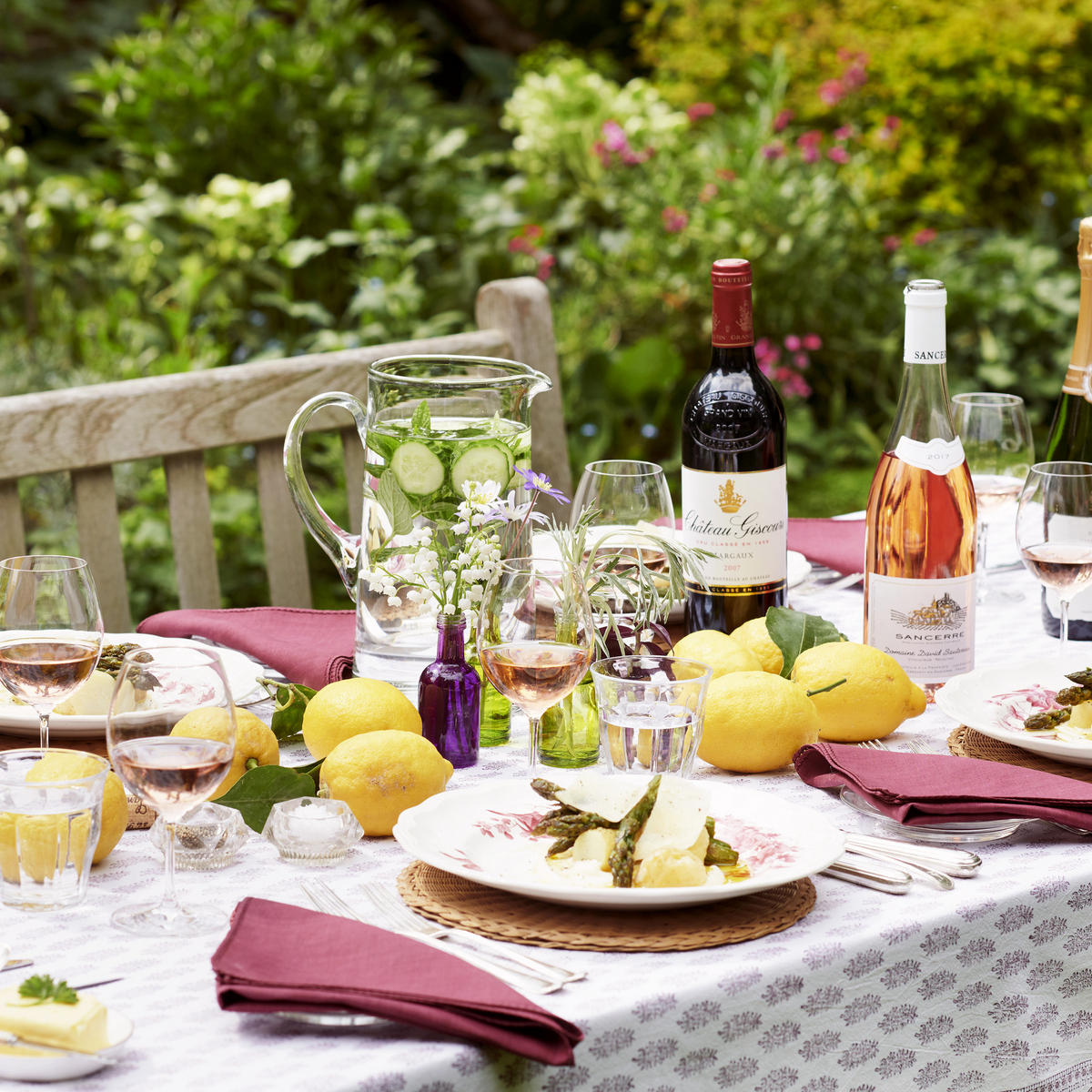 The crowning of a new king is upon us: the most fabled of reasons for a party. A delicious spread is a must – whether you're celebrating the dawn of the Carolean age or the start of the long weekend. With the King's chosen recipes now known, we've put together some (unofficial) suggestions on wine pairings to match.
The Coronation of King Charles III is just around the corner. Perhaps you're planning a street party or a quiet celebration at home – or simply thinking about hosting friends over the Bank Holiday weekend. Whatever your personal occasion, this is an excellent opportunity for delicious food and wine.
The idea of coronations may conjure up thoughts of creamy spiced chicken, Scotch eggs and Victoria sponge cake, but none of these actually feature among the King's official chosen recipes. Instead, he's opted for a broader range of flavours, featuring dishes crafted by three celebrated chefs: Ken Hom, Nadiya Hussein and Adam Handling (who runs the Michelin-starred Frog in Covent Garden).
These delicious, stylish recipes offer exciting opportunities for wine pairings. So, if you plan to replicate any of the King's chosen dishes at home, here are some wine styles that we'd recommend matching them with.
Ken Hom's coronation roast lamb
The star feature of this dish is its Asian-style marinade of sesame oil, soy sauce, Dijon mustard and garlic – but don't let that throw you off. Lamb is delicious alongside an elegant, fruity red, such as a modern Rioja or Pinot Noir; if you're opting for the latter, this bright, subtly spicy New Zealand Pinot from Akitu would be perfect. The key is selecting a wine with delicacy; one that is not too tannic, because the umami notes of the dressing are likely to accentuate the bitterness of the tannins.
Adam Holden, Director to the Chair's Office (and all-round food-and-drink expert), has this to say on the subject of lamb pairings:
"Lamb stands apart from the robust flavours of beef and richly unctuous textures of pork. There is an inherent sweetness and delicacy to this cut that demands careful consideration of its wine partner. To pair perfectly, the wine should have subtlety and grace. A little tannin is a must – particularly for the sweet, fatty crust – but the tannins should be silken. The fruit should have a hint of sweetness to it, and a certain grainy minerality should be present to bring some texture to the palate."
Nadiya Hussein's coronation griddled aubergine
Nadiya's vegetarian dish has a gentle spice, seasoned with paprika and dressed in a yoghurt mixed with curry powder, garlic and mango chutney. A full-bodied white wine with a little spice to match would work well here, such as our Sonoma County Chardonnay from Ramey Wine Cellars. A rich, generous and slightly spicy Chablis would be equally delicious alongside this dish.
Aubergine and spice – the two main features of this dish – would also pair very nicely with a lighter-bodied red. Gusbourne's English Pinot Noir with its delicate fruit, or Frédéric Mabileau's juicy Bourgueil Cabernet Franc, would be a real treat.
Adam Handling's ginger and strawberry trifle
This recipe is based on a traditional Yorkshire parkin recipe – laced with ginger, nutmeg and mixed spices – combined with strawberry jelly and ginger custard. A natural match, in light of the occasion, would be The King's Ginger liqueur. Originally crafted for King Edward VII, it's a spirit steeped in royal heritage – but, more importantly, it's delicious with puddings.
There are plenty of sweet wines you could pair this with too. Our Own Selection Sauternes or Tokaji are classic pudding matches. But an Auslese Riesling with a little spice, or a sweet Vouvray from the Loire Valley, would also pair magnificently.