Eben Sadie: putting down roots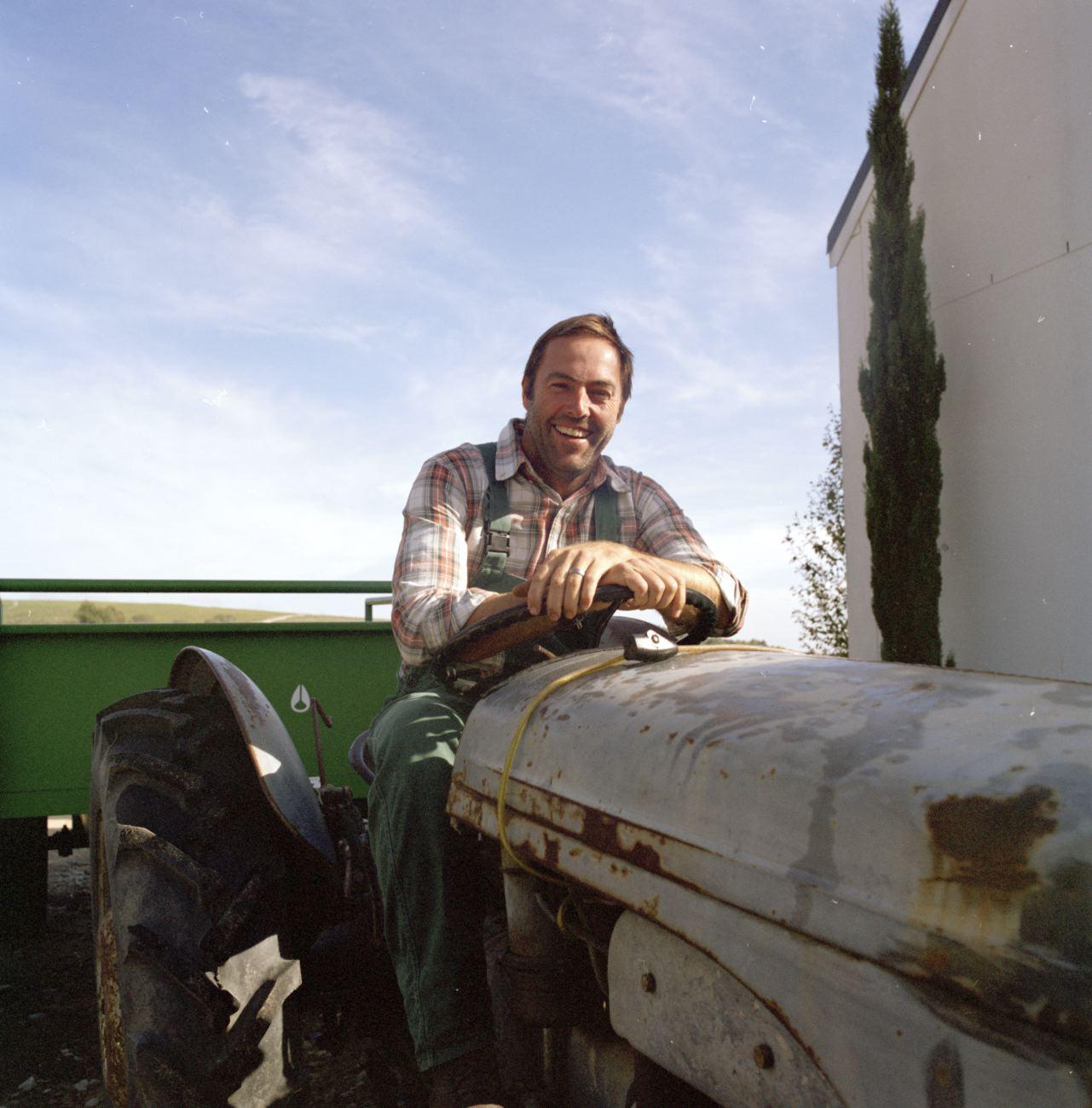 Some winemakers join the well-established order of a family business, following in the footsteps of their forebears. For Eben Sadie, there was no established order: here, we look at the early days of what has become The Sadie Family Wines.
Today, Eben Sadie's wines are among the most sought-after anywhere on Earth. But the Sadie family wasn't always a winemaking one.
Though Eben grew up in South Africa's Swartland region, he took no notice of the vine for much of his youth and adolescence. It was what was off land, rather than on it, that caught his eye first: he wanted to be a marine biologist. Lacking his father's blessing, Eben didn't take that career path. Instead, he served in the military before attending agricultural school in Stellenbosch.
Around this time, something clicked. Vines and wine started to fascinate Eben. "The science of it, the growing patterns of the plant, the diversity," he says. "The whole notion of terroir. The fact that it can make this liquid that can live for a long time, that can tell stories."
Eben Sadie's early years
His early years were formative – in honing his craft as well as gaining a deeper understanding of his own view of the world. Most wineries are commercial enterprises, companies whose raison d'être is to generate a profit. Eben sees things a little differently, believing that money and wine don't mix particularly well.
"If money is the main objective, the wine will always come second," he says. Invariably, this means poring over Excel spreadsheets (which have "ruined wine", he says) looking for ways to save cost: lower-quality corks; cheaper packaging; less time spent in the vineyard.
It was perhaps inevitable, then, that Eben would go out on his own. He insists that he's not an entrepreneur by nature, but the lure of making wine his way was evidently too strong – and The Sadie Family Wines was born. Eben made the first vintage of his flagship red blend, Columella, in 2000; he followed with his white blend, Palladius, two years later.
Sailing, metaphorically, was far from smooth at first. A lack of cash was an ever-present issue.
"I came from no money," Eben says. "I started all of this on £9,000."
A STEEP CLIMB
This made for a steep, hard climb: he's renowned as one of South Africa's greatest winemakers, yet he spent much of his first decade in business doing anything but tending his vines and making his wine. He worked odd jobs on the side, sold scrap metal and moonlighted at other wineries. This hard graft was just about enough to keep the ship afloat – and keep the wine in casks. But there was a greater challenge: he had no idea how he was going to get his product to market, let alone sell it.
A fortuitous visit from British wine importer Roy Richards answered some of Eben's prayers. The two had met in London briefly before; Eben's enduring memory was of a highly skilled wine taster. So, when Eben discovered that Roy was to come to South Africa, he "begged him" to come taste his wares.
MAKE OR BREAK
"I knew if I could get the wine in front of him, there was a good chance something could happen," Eben says. So confident was Eben in the quality of his wine that he created a blend in front of his visitor's eyes. "I took a pipette and drew 50 millilitres from each cask, threw it in a decanter and said, 'that's the wine'."
Roy tasted, slowly; Eben stressed out. "He took forever," Eben recalls. "I went outside twice to throw up." It would prove worth the wait. "Eben, this is very, very good," Roy told him, producing a piece of paper from his briefcase and drawing up a contract there and then. Negotiations were quick, hands were shaken. The Sadie Family Wines now had a major buyer in one of the most important markets in the world.
This was a huge early success – but the struggle continued. "It took about nine vintages before I could comfortably sit and not do any other jobs," Eben says. It wasn't until 2014 that they were "truly financially sound," he explains.
Today, Columella and Palladius are firmly established as benchmark wines, and since 2010, Eben has produced the Old Vine Series ("Die Ouwingerdreeks" in Afrikaans).
THE OLD DOG
As he approaches his 50th birthday, Eben has no desire to retire – though he basically resigned from the winemaking in 2019, he says. Paul Jordaan, having worked under Eben for almost 10 years, has stepped up. With a little more time on his hands, Eben is focusing ever more on the vineyard.
The Sadie family may be relative newcomers to winegrowing and winemaking, but nothing about The Sadie Family Wines feels short-lived; Eben has worked too hard for too long and has sacrificed a great deal.
His two sons now work in wine, though he has asked them to gain experience elsewhere before they join the family firm. He looks forward to the injection of energy when that does happen: "I'll be like that old dog that'll start running again with the young dogs," he says. His daughter has only just decided that she'd like to study wine; Eben may have to plant more vineyards as a result.
In his mind, "legacy doesn't always need to be blood, but you need that cultural passage where the wine can flow from one generation to the next."
As Paul continues to establish himself in the cellar, and as Eben's children find their way in today's wine world, there is plenty yet to come.
Discover our range of The Sadie Family Wines with BBX, our fine wine exchange.