My 25 years of collecting Tuscany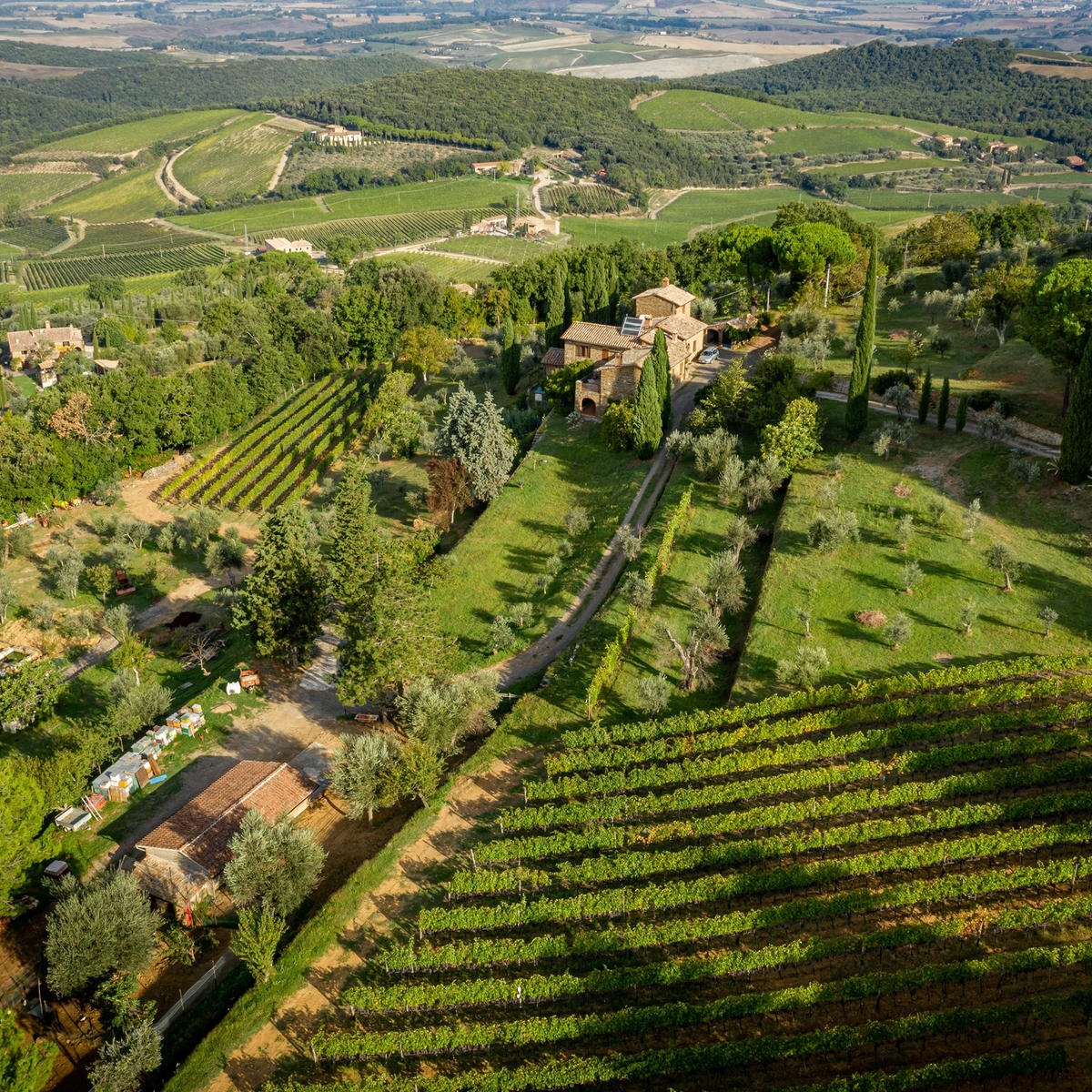 During his 25 years with Berry Bros. & Rudd, Account Manager Chris Pollington has helped many customers to build their fine wine collections. Here, he tells us about Tuscany's wine history, how Super Tuscans came to be and why everybody should have a touch of Tuscany in their cellar.
Where it all began
Tuscany is one of Italy's, indeed the world's, best wine regions. Its wines were the first to really excite me when I began learning about wine 40 years ago. Before I joined the wine trade 10 years later, I would regularly buy great Chiantis and the odd Super Tuscan for drinking with my brother and my Italian girlfriend – now my wife. As time has gone on, my tastes for wine – Italian wine in particular – have broadened. But Tuscan wines still hold a great place in my affections and, of course, in my wine collection.
Chianti Classico is the oldest quintessential wine region in Tuscany and still produces some of the region's finest wines. Chianti has always been an area producing good volumes of quaffable wine for early consumption. However, it has also produced more serious reds for lengthy ageing which mature splendidly, in the guise of Chianti Classico Riserva. Over the last 40-50 years, these have been augmented by the rise of the Super Tuscans.
The rise of the Super Tuscan
The origin of the Super Tuscans derives from the limitations of the wine laws when many of the wines were first created in the 1960s, '70s and '80s. At that time, the DOC (Denominazione di Origine Controllata) laws stipulated that Chianti Classico could only be made from a blend of indigenous Tuscan grape varieties and must include white grapes. This had long been the recipe for flask Chianti but was not ideal for creating age worthy wines. To have the best ageing potential , these wines would need to be made from 100% Sangiovese, which was illegal at the time, as was adding any French varietals like the Cabernets, Merlot or Syrah to the blend.
Wines produced in Chianti Classico vineyards, thus falling outside the laws, included Antinori's Tignanello (Sangiovese with Cabernets Sauvignon and Franc), Fontodi's Flaccianello and Isole e Olena's Cepparello (both 100% Sangiovese). Thankfully the law has now changed, and 100% Sangiovese wines are allowed by the local wine laws, as are up to 20% of other red grape varieties. White grapes in Chianti Classico are now outlawed.
Away from Chianti Classico, the first Super Tuscan, and possibly the catalyst for all this rebellion, was launched in 1971. It was the 1968 vintage of Sassicaia. Sassicaia was made from Cabernet Sauvignon and Cabernet Franc in the Tuscan coastal region of Bolgheri, not previously a wine region at all, so no DOC was applicable. Piero Antinori and his winemaker, Giacomo Tachis were involved in the launch of this wine, inspiring them to plant Cabernet vines in Chianti Classico to use in Tignanello's first vintage, the 1971. Many age-worthy Super Tuscans were first created in Bolgheri in the 1970s, '80s and '90s with the likes of Grattamacco and Ornellaia joining the party. The Bolgheri DOC was eventually created in the 1990s, as was Sassicaia's own DOC.
Elsewhere in Tuscany
Further south is Brunello di Montalcino territory. Sangiovese, known locally as Brunello, is responsible for these great, age-worthy wines. First highlighted in the late 19th century, these stunning wines have gained great momentum over the last 30 years, with more and more land going under vine.
The southern Tuscan coast has joined the band too. Fattoria Le Pupille are leading the way with their Morellino di Scansano wines and their own Super Tuscans: the Cabernet-based Saffredi and 100% Sangiovese, Poggio Valente.
Tuscany's scope in your cellar
When I first started selling wine, Tuscan wines for laying down were few and far between. There was the odd Chianti Classico Riserva, Brunello di Montalcino or Super Tuscan but there is now a huge range of wines from across the region which are age-worthy and eminently deserving of a place in any collector's cellar.
My own collection includes Chianti Classico Riserva, Brunello di Montalcino and Super Tuscans but there are wines I wish I'd laid down years ago (when they were more affordable). I first tasted wines from the sublime 1985 vintage in the early '90s and indeed I enjoyed a bottle of '85 Tignanello with a take-away pizza in '92 — quite the pairing. Recently, I had the opportunity to taste the stunning 1985 Brunello di Montalcino, La Storica Riserva by Biondi Santi and was enthralled by its layers of delicious flavours.
To hear more on Italian wine and Chris's thoughts on that Biondi Santi Brunello di Montalcino, you can listen to the Italian wine episode of our podcast.