E&E Vocoret: forging a path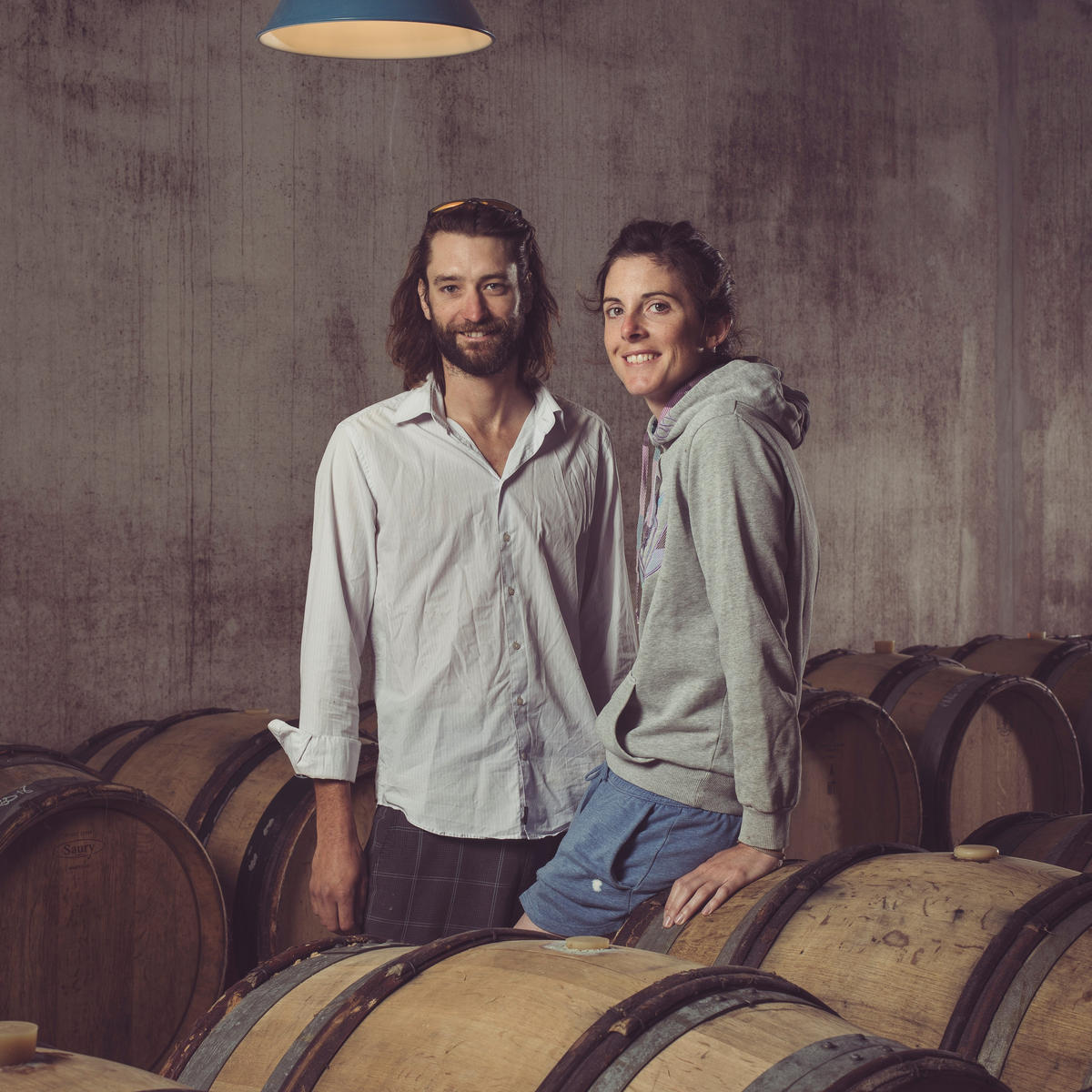 Now a decade in business, Eleni and Edouard Vocoret produce some of the most sought-after wines in Chablis. We look at how this dynamic young couple got here – and why our Burgundy Buyer believes their best days (and wines) are still ahead of them.
Vocorets have grown vines in Chablis for 12 generations. Edouard Vocoret is the fifth generation to make wine. The family firm, Domaine Vocoret & Fils, is one of the region's largest producers. But Edouard and his wife, Eleni, decided to forge their own path.
Eleni grew up in Germany; her mother is German, her father Greek. She and Edouard met when making wine in New Zealand, moving to Chablis in 2010. Each spent a couple of years working – Edouard for his family, Eleni split between Vincent Dauvissat and Nathalie Oudin – before setting up Domaine Eleni & Edouard Vocoret in 2012.
"They clearly wanted to do their own thing and take a different route to Edouard's family business," says Adam Bruntlett, our Burgundy Buyer. "Eleni being an 'outsider' brings a fresh perspective, unencumbered by preconceptions of what Chablis has to be – while Edouard has strong links to the village."
Today, their domaine extends over five hectares of vines, including a tiny amount of the Premier Cru site Les Butteaux. It's a small operation. Other than some seasonal and harvest workers, it's just the two of them. "We do as much as possible by hand," Edouard tells us on a Zoom call. "You could say we are 'gardening' the vineyards."
Like any gardener worth their salt, the Vocorets know their vineyard inside-out. "We know every vine," Edouard says. "We pass each one 10 or 20 times each year." This hands-on knowledge affords the couple a level of precision not often seen in Chablis: "Most growers make one cuvée of [village-level] Chablis, where all their plots are blended together," Edouard says. Not so here. The Vocorets bottle three village cuvées, Edouard considering each a unique expression of place. "We try to work them the same way in the vineyards and the cellar. So, when you taste them, you are really tasting the particularity of that plot. It's just the terroir speaking for itself."
The inspiration for this approach – and more besides – comes from Edouard's formative experience working under Daniel and Julien Barraud in Vergisson. "They were making every single plot into its own cuvée," he explains. As in Chablis, this is not standard practice in the Mâconnais. Edouard considers Daniel Barraud to be a mentor. "Daniel gave me the love of the work. Just after speaking with him, you want to know everything – about wines and vines and plots and clones and nature, and all of those things."
It's early days here, but Edouard and Eleni are already renowned. Edouard tells us of his plans to expand the vineyard in the coming years, though the details are, for now, under wraps. "People are always asking us, 'When are you getting more Premier Cru? When are you getting more plots?'" he says. "Because, I mean, everyone wants more volume. But we do not want to get too big to be able to continue working in the way we do."
Any expansion will be measured, small-scale and fit in with their philosophy ("We want to be small, to make the highest quality possible"). But this is a name to watch in Chablis. "What they have done so far is really impressive," says Adam. "And that's mostly working with village vineyards. With growers who do an outstanding job with their 'modest' holdings, I often wonder what they could achieve with some top vineyards. In this case, we will find out quite soon, and that's really exciting."
A version of this article was published in the Spring/Summer 2021 issue of No.3 magazine.