Bordeaux 2021: St Emilion and Pomerol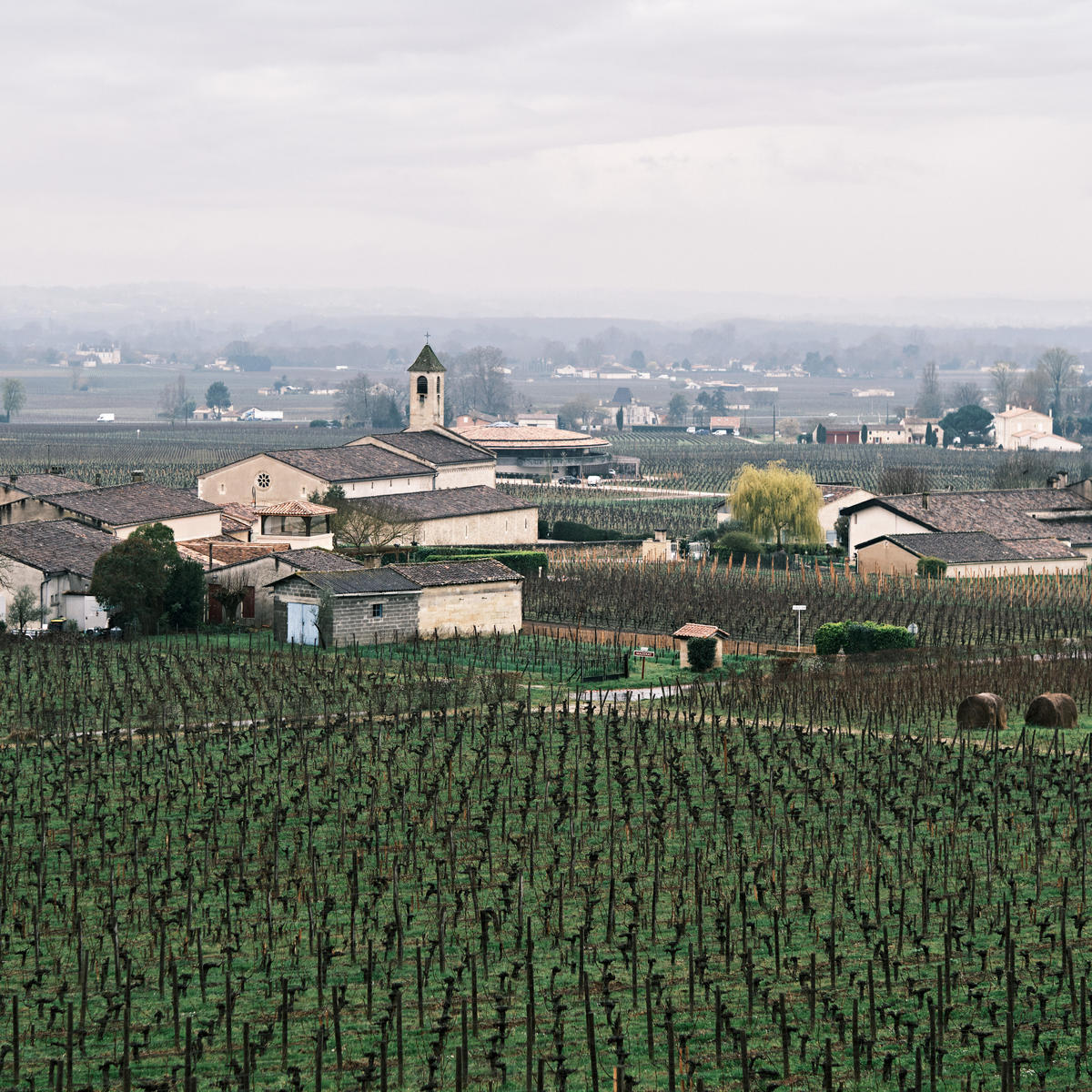 It's the En Primeur tasting week in Bordeaux. Mark Pardoe MW and our team have just spent a day in St Emilion and Pomerol, tasting the 2021 vintage at no less than 15 top estates. Here, our Wine Director reports on the Right Bank.
The weather forecast for this week was not promising. Grey clouds and regular showers threatened to dampen spirits and lower expectations. Yet we finished our first day basking in the warm evening sunshine and with our spirits lifted by a day that exceeded our expectations.
At this stage, it is necessary to issue a caveat. This week in Bordeaux focuses on the most important châteaux and those with a track record of excellent wine, year after year. That means that we don't often come across any underachievers in proportion to the actual situation. We know from our meetings in St Emilion and Pomerol today that thin and acidic wines have also been produced. But the truth for 2021 is that estates with good terroir, an experienced team and an appetite for hard work have made very good wines indeed this year.
Timing is everything
That was the opinion of Marielle Cazaux of Château La Conseillante. This was our first visit of the day, and it set the tone for the visits to follow. The wine was floral, with the typical notes of cocoa and plum; it was sleek and balanced, with a silky wrap of tannins.
The key for the Right Bank seems to be the decisions around harvest dates in early October. Storms and heavy rain were forecast for the first weekend of October. By then most of the Merlot was harvested, but the Cabernets needed more time. Those that gambled were rewarded with minimal rainfall and a fine end to the season. This allowed the harvest to continue until the end of the third week of October. It seems that this extra ripening was crucial to the texture of the final wine.
Hazards and threats
At Château Beau-Séjour Bécot, we discussed another angle with Juliette Bécot and her husband, Julien. The two main scourges of '21 were the potential damage from spring frosts and the mildew that threatened to run rampant during June's heavy rain and rising temperatures.
A generation ago these challenges, and especially that of mildew, would have most likely rendered a vintage unharvestable. But today's knowledge and techniques mean that a more-than-decent wine can be salvaged. And, more than that, arguably there now exists a new Bordeaux category never before possible: a wine successfully born from a cool and wet year.
Maturing slowly
In a modern context, this creates a wine with an appealing freshness, but also delicious and complex aromas, due to the long road to full maturity. This is especially so towards harvest time when the most complex aromatics are created.
Pierre-Olivier Clouet of Château Cheval Blanc observed that the usual gap between the date at which the grapes turn colour (véraison) and the harvest is usually 40 days. In '21, this was extended to 60 days and, for some plots, even 65 days.
A Right Bank roundup
In a run of visits throughout the day, our expectations were met and usually exceeded. In addition to those châteaux already mentioned, there was a stylish Grand Mayne; a sensual La Gaffelière; Figeac recalling its glory vintages of delicacy and finesse; and a resurgent Beauséjour héritiers Duffau-Lagarrosse, now under Josephine Duffau-Lagarrosse's family direction.
A blue-chip home straight of Angélus, Ausone, Le Pin and Petrus only confirmed the heady, subtle and almost Burgundian sensuality of the vintage before we ended at Troplong Mondot. Here the château's inherent power, easily overplayed but now masterfully controlled, added another layer to the vintage's immediate charm. Troplong Mondot was an assured wine, powerful yet balanced and complete, and brought alive by the transparency and energy of '21.
Positive impressions
A full day of 15 châteaux visits has left us with a very positive impression of the best wines from St Emilion and Pomerol. Where the perfume and allure of the vintage has been allied to smooth tannins and silky textures, these were all wines that we would all want to buy and drink, expressing another face of the Right Bank, and one that charms and delivers.
Mark and the team will provide further updates from Bordeaux later this week here on the Berry Bros. & Rudd blog.