On English wine: established 1066
English wine is not new news. But it is the most exciting story in the wine world right now. Here, our Buyer Davy Żyw tells us about the homegrown fine wine scene – from the true potential of our terroir, to the producers who are making the most impressive wines
We are a nation of enduring thirst and appreciation of the world's greatest wines. The UK has the most mature and diverse wine market in the world. Within these shores, we sell, cellar, and enjoy an extraordinary range of global wines.
There are many historic, political and social reasons why we import the wines we do, but the most significant is that in the past we couldn't produce enough wine of our own. We had to look overseas to whet our whistles.
Although, we did have a small foothold in the game.
AN OLD STORY
The story of English wine is as old as many European wine regions; grapes arrived with the Romans, but it was the Normans who established consistent viticulture and wine making. In 1066, the Doomsday Book records 40 vineyards, including a current front runner of English sparkling wine, Nyetimber of Kent.
Winemaking did expand further across England but the marriage of Henry II to Eleanor of Aquitaine, and a period of truly British weather in the 12th century, meant that the parched public preferred the quaffable wines of France – and our love affair with Claret began. And, thus, UK winemaking fell dormant as lands went to more prosperous agriculture.
A few intrepid landowners in the 18th century gave viticulture a good bash; however, it was an endeavour of love rather than serious production. This changed in the 20th century, when the UK's first commercial wineries began realising the potential, dedicating land to viticulture. In 1952, Sir Guy Salisbury planted vines at Hambledon, aided by his friends at Pol Roger who supplied shoots of Chardonnay from their vine- nursery in Epernay. During the latter half of the 1900s, more vineyards emerged, and the momentum has only continued.
WORLD-CLASS TERROIR
Although the topography has remained relatively unchanged over millennia, now vineyards criss-cross much of the South of England. According to Wines of Great Britain, plantings have quadrupled since 2000. And it is this landscape which is providing winemakers with world-class raw material to produce top-class wines.
Naturally, we have looked to Champagne for inspiration: it's the nearest wine region as the crow flies. But there is logic: many of the greatest vineyards of England are planted on the same cretaceous chalk as the Champagne region. Look no further than the white cliffs of Dover, to see this 65-odd-million-year-old white bedrock. It is this chalk which also gives Champagne its signature salinity and tension which we also find in many of England's top sparkling – and still – wines.
The mean temperature in the South of England is now very similar to that of Champagne when it came into its own as a fine wine region. However, due to our geographical position, we suffer a lot more "weather" than the landlocked Champagne vineyards. Historically, we cultivated Great-British-Summer- Resistant grape varieties which produced some gems, but many high-acid, underwhelming wines. We are now in a different phase.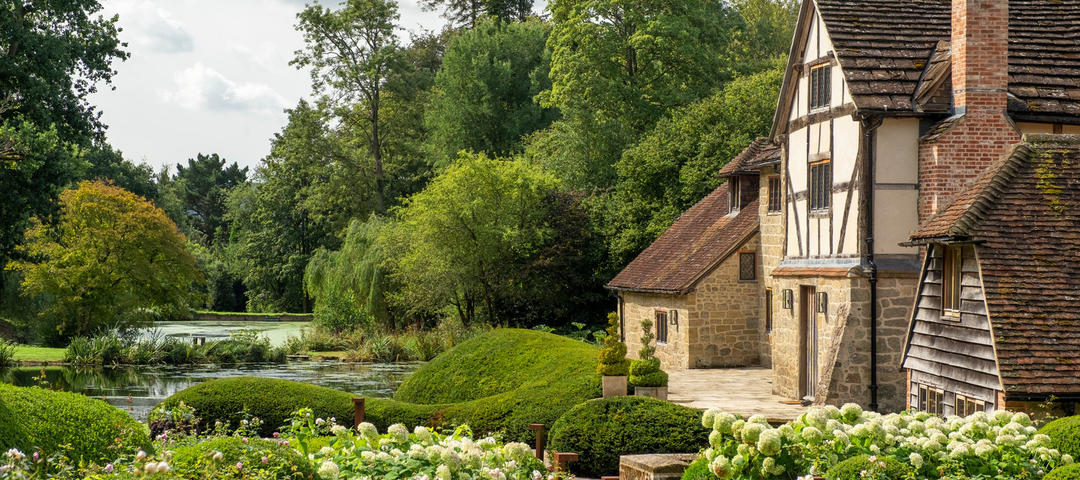 ENGLISH SPARKLING: PAVING THE WAY
We are a nation famous for sparkling wines, predominantly made by méthode traditionnelle. This imported technique uses a primary and secondary bottle fermentation to capture effervescence and add reductive, autolytic complexity and texture. The largest areas under vine here are the three main Champagne varietals: Chardonnay, Pinot Noir and Pinot Meunier. These have been planted predominantly for sparkling, but – as climate change nudges up temperatures – we are seeing more and more wonderful still examples being produced.
We now have 178 different wineries, concentrated in the South of England, and there is an increasing appetite to separate county lines to add differential. Personally, I think it's too soon in our journey of discovery. Instead let's be signposted by the chalk subsoils of the South Downs which weave together the greatest vineyard sites in Kent, Sussex, Surrey, East and West Sussex, and Hampshire.
The mediating coastal proximity and varied exposures across rolling white hills mean this strip is home to most of England's "Grand Cru and Premier Cru" vineyards, and the greatest density of England's trailblazing winemaking talent. Producers of our Own Selection sparkling, Hambledon Vineyards, work with influential Champagne winemaker Hervé Jestin to articulate their thoroughbred chalk soils with considered winemaking.
Our Own Selection English Blanc de Blancs 2015 is one of the country's finest examples. Noteworthy, too, is Gusbourne Estate of Ashford, who use modern winemaking to produce an eloquent range of sparkling and still wines representing the best of British winemaking. The 2019 Gusbourne Estate, Boot Hill Pinot Noir will delight and surprise even the most avid of Burgundy village drinkers.
BEYOND THE SOUTH DOWNS
But following the South Downs is just one path into the UK's emerging wine scene. Wales, Cornwall, Berkshire, Essex and Norfolk have varied climates and geology which are home to some marvellous wines. A short drive from Norwich, Hannah and Ben Witchell produce a beautifully crafted range, including their 2018 Flint Vineyard Bacchus. This flagship still white thrives on the flinty and deep gravel soils of East Anglia, producing aromatic and deliciously nettley whites. Bacchus has a bright future to become the flagship varietal for England, with an individual style which has not been imitated from overseas.
Not all the best wines come from "owned" vineyards. Some talented winemakers buy in grapes from farmers, and produce wines of their own. Ben Walgate of Tillingham, Kent, farms his own vineyards biodynamically, a brave choice in England, but also buys in grapes from like-minded grape growers. He uses a mix of modern and ancient methods to radically redefine what styles are possible to produce in Blighty, and we are thrilled to introduce his wines this autumn. It is winemakers like Ben, and the Witchells, who are brave enough to forge their own identity, and with it raise the profile of English wines for generations to come.
Now lockdown has lifted, I urge readers to book a train and pack your bags to visit our local wineries, and support and celebrate the emerging fine-wine regions on our doorstep. Many of them have been built with tourism in mind, with beautiful tasting facilities, boutique restaurants and even some luxurious tasting rooms to sample and enjoy the fruits of their labour.
Over the next few years, as production swells and quality soars, we need to habitually think to drink more British. These winemakers, this industry, is dependent on imbibers on these shores, feasting on the best of our own as our European neighbours have done so well with theirs.
We might have the most mature market in the world for fine wine, but there is always space for something new. And, although I keep my cellar full of the great wines of the world, I will be making space for some home-grown talent. In a hundred years will the question be Côte de Beaune vs Côte de Nuits or East vs West Sussex? Who knows, but we do know the best wines of this island need to be tasted to be believed, and they are only getting better.
Explore our range of English wines here.