Alsatian delights: Hugel et Fils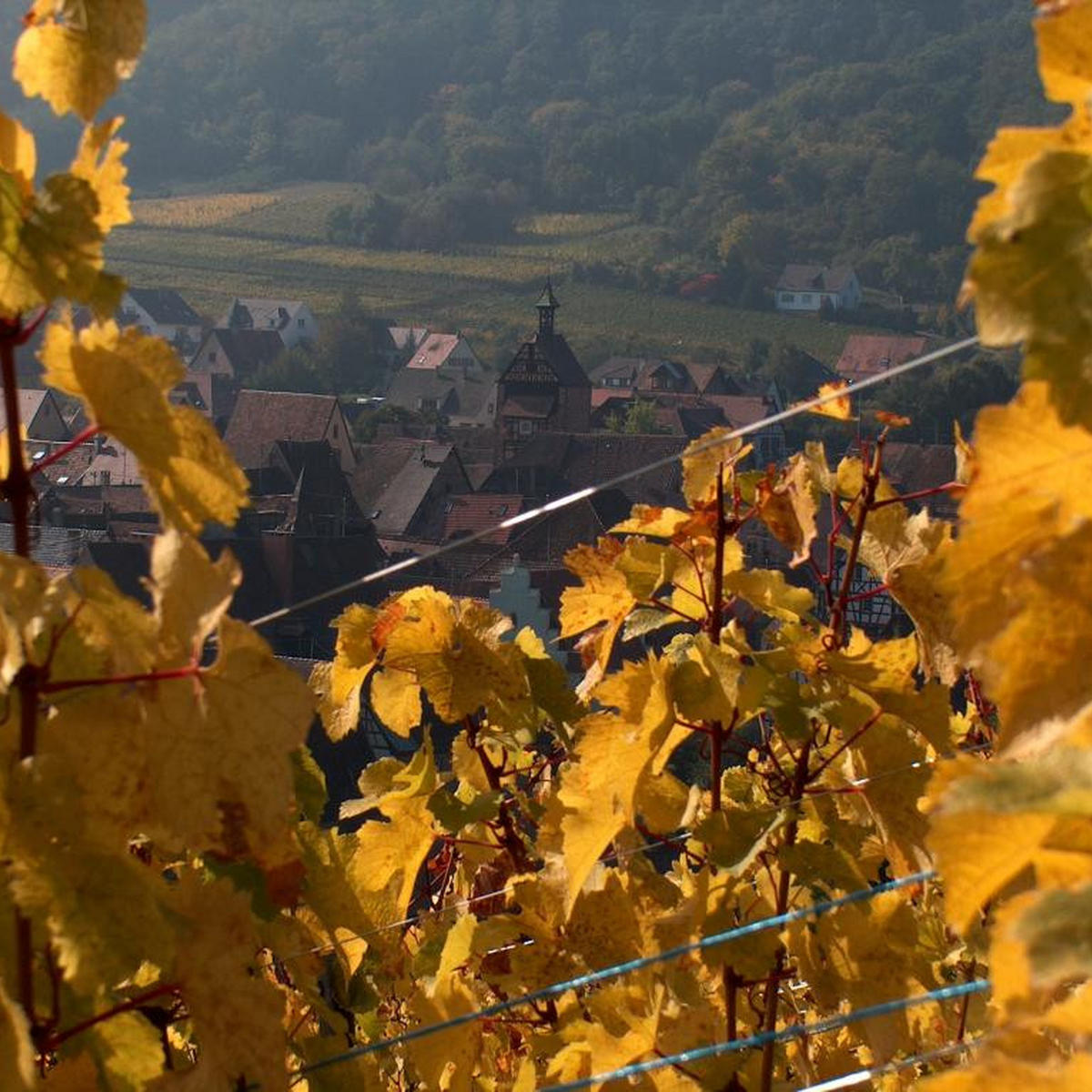 We recently had the great fortune of sampling a line-up of exquisite wines of this Alsatian icon. Here, we paint a brief picture of what you can expect from Hugel et Fils's stunning "noble" wines.  
Hugel is one of the oldest wine estates in the Alsace region of Eastern France. The winery was founded in 1639 by Hans Ulrich Hugel, even predating us here at Berry Bros. & Rudd. Impressively, it has managed to remain within family hands for close to four centuries, and is today run by the 13th generation of the family.
The family own more than 25 hectares of vineyard land in Riquewihr not far from Colmar, a picture-perfect fairytale town comprising medieval timbered houses and old wine shops. Almost half of Hugel's sites are classified as Grands Crus. Only the "noble" grape varieties can be used to make Grand Cru wines in Alsace, and these are Riesling, Pinot Gris, Gewürztraminer and Muscat. The average age of Hugel's vines is 30 years old, lending the fruit extra concentration and richness.
If, like me, you're a fan of ripe, full-bodied whites, you'll adore Hugel's wines. Rugged Alsace is blessed with some of the sunniest weather in France, and the warm autumns here allow the grapes to ripen on the vine, resulting in concentrated sugars. This practice is known as vendanges tardives, yielding gloriously fleshy, often sweet wines. Brimming with ripeness and refreshing acidity, many will evolve beautifully in the cellar.
If you're looking for something special, I can't recommend these wines enough. Below, you'll find a brief snapshot of six wines from our recent tasting.
A quick explainer 
Estate wines are from a selection of grapes from Hugel's vineyard plots situated in Riquewihr commune, which are cultivated on a unique mix of clay and/or marl soils. These offer the classic flavours you can expect from these grapes, and exceptional value.
The Grossi Laüe, which means "great growth" in the Alsatian dialect, represent the greatest expressions of noble varieties from their historic vineyards: Riesling on marl, Pinot Gris and Gewurztraminer on clay. These will become more multi-faceted and complex with time in the cellar.
Vendage tardive translates to "late harvest", and refers to the practice of leaving grapes on the vine until the fruit sugars concentrate. Hugel were the pioneers of this category in Alsace. These wines are almost always sweet, rich and full-bodied, although they don't necessarily need to be.
The wines 
This is a rich, full-bodied expression of Pinot Gris. There is plenty of ripe fruit on the nose: melon, peach, apricot, orange blossom and nectarine all abound. A subtle cream character emerges on the palate, alongside touches of honey and orange blossom. A fine thread of acidity and a little residual sugar keeps this in good balance. It's delicious alongside slightly sweet chestnut flavours and soft cheeses.
"Like a well-made perfume, the Estate Gewürztraminer has a symphony of fragrance notes drawing you in," says Account Manager Henrietta Gullifer. It's brimming with wonderfully ripe flavours of lychee, rose, nectarine, peach and apricot, with a floral note of chamomile and a touch of spicy ginger. It's a real treat now, and would make a beautiful match for a cheeseboard.
2016 Gewürztraminer Grossi Laüe, Grand Cru, Sporen
A sweet, fleshy ripeness runs through this wine. Lychee notes burst out of the glass on first whiff, alongside hints of roses and ginger. On the palate, flavours of mango, lychee and peach are held together with a fine acidity, offering a fresh overall sensation. It's utterly delicious, and would pair very nicely with steamed fish with ginger.
2015 Riesling Vendange Tardive
Beeswax, blossom, nectarine and honey entice on the nose, and the palate offers notes of tropical and citrus fruits and a hint of cream. This is among the sweeter of Hugel's offerings, but that richness is balanced by a good acidity. It's the perfect partner for Chinese duck pancakes with hoisin sauce.
2014 Gewürztraminer Vendange Tardive
This has an opulent green-gold hue to it that entices at first sight. There's a softness to this, with notes of sticky lychee, blossom, rich honey and rose. Account Manager Tom Cave suggests pairing this with a soft blue cheese such as a Munster. Whether you pair it with food or enjoy it alone, a chilled glass of this would be a real delight.
2014 Riesling Selection de Grains Nobles
This is exquisitely fleshy and layered. The nose bursts with roses, stone fruits, sweet orange and that touch of petrol which is characteristic of Rieslings with a little age. On the palate, it offers orange syrup and a slightly nutty baklava-like note, with the subtlest hint of pistachio to complement the rich fruit. The sticky sweetness is beautifully balanced by a good acidity, to stunning effect. With a long life ahead of it, this will only improve in the years to come. It's a real treat to end the tasting on.  
Browse all of Hugel's wines here