Domaine Follin-Arbelet: stepping up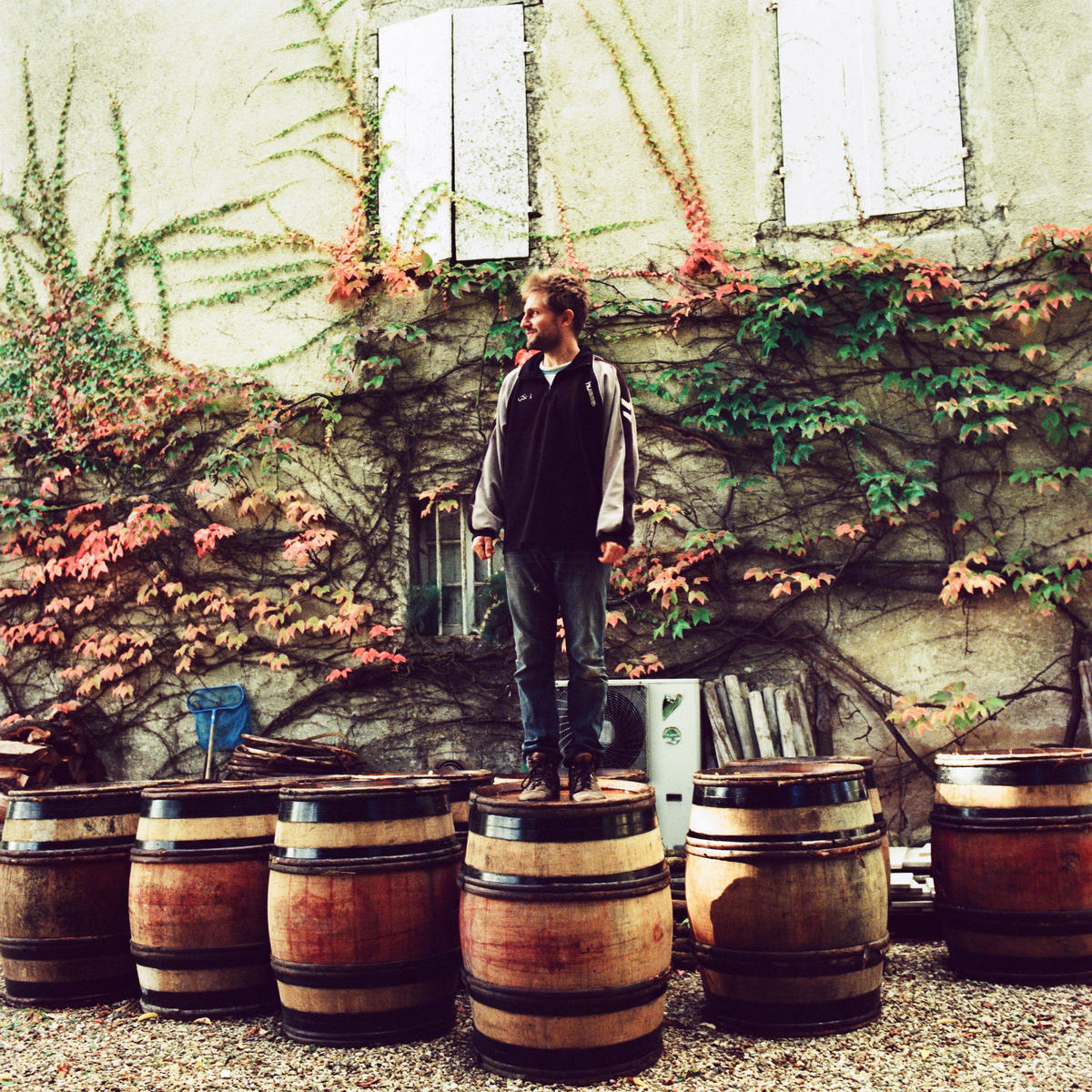 Overseeing Grands Crus and other top terroir is no mean feat – especially at the tender age of 32. Here, as he prepares to succeed his father, Simon Follin-Arbelet shares his plans for the family domaine in Aloxe-Corton.
Simon Follin-Arbelet has just completed his fifth vintage at his family estate in Aloxe-Corton. When we visit him in October 2021, his parents are taking a well-earned holiday in the Massif Central. Simon has the domaine to himself today – and, in a few short years, he will be completely in charge here.
Born and raised in Beaune, Simon grew up around winemaking. His father, Franck, established Domaine Follin-Arbelet in 1993. "Even as a child," Simon recalls, "wines and vines were an important part of my life." But his joining – and eventually running – the property wasn't predestined.
Simon is a linguist by training: he studied English and Spanish before moving to Japan. He then spent a year working at a Japanese culinary school in Dijon, finally returning to Burgundy in 2016. He joined the family estate the following year. "Before coming back, I was worried if I'd like it or not," Simon admits. "It was a big commitment. But I have no regrets at all. It's a very beautiful life that I have now."
FATHER AND SON
For now, Franck is in charge and Simon is officially an employee. "I have so much to learn from my dad," Simon says. "He is a clever man. He always has good ideas and he's a big inspiration for me.
"Of course, as human beings, we each have our own character," Simon acknowledges with a smile. "Sometimes we have small arguments. But apart from that, it's going very well. I can't complain."
Simon and his father share a similar ethos. "We work the domaine in a very classical way," he says. "The important thing for us is to work as much as possible outside, to get the most beautiful grapes. And once you get those beautiful grapes, you try to make it as simple as possible in the winery and down in the cellars. We use as little intervention as possible. It's the lazy way, but to me it's the best way."
As the domaine's 30th vintage approaches, so too does Franck's retirement. "I feel my father is getting a little bit tired," Simon says. "It's a big responsibility for him. We are a small domaine, so we have to deal with everything – from working outdoors to the business side. My dad still enjoys working in the vines. He loves it. But he'll be happy to give me some responsibilities."
STEPPING UP
It won't happen overnight, but Simon is carefully and excitedly preparing to step up. "My dad will be around helping me when I need help, to answer my questions," he says. "That will be for another two or three years, and then I'll be alone here. Which is cool – I'm kind of looking forward to doing my own stuff."
The five years he has spent here have equipped him with many of the tools he'll need for the job. "Each year, I'm learning new things that I want to master. So, in a couple of years, I can do everything with confidence."
But of course, nobody can do "everything". Characteristically, he's thoughtful about this, too. "I'm still not quite sure about my position," he ponders. "I'm happiest when I'm outside in the vines or in the cellars, but at the same time I want to know what's going on with the sales."
LOOKING FORWARD
Those who love the domaine's style can rest easy: Simon's will be the age of gentle evolution, not revolution. "The changes that I want to make," he says, "we've started already."
These are, by and large, incremental improvements and investments: a new chenillard, a small tractor which will allow him to gently plough the soils of his steeply sloped vineyards; a change to winter pruning to encourage later budbreak and mitigate the risk of spring frosts; and seeking organic certification (an administrative change more than anything else; the domaine is already farmed organically).
While he's clearly looking forward to taking the reins here, there's an unavoidable shadow cast over Simon's future at Follin-Arbelet – that of climate change. "I'm not optimistic," he says. "Not at all. But I also think it will be very interesting. I think we'll face new problems that we can't even think of now. And we'll have to find solutions.
"I really wonder what it will be like to be a winemaker in Burgundy in 2050. You can come back then, and we can talk about it," he offers, "hopefully."
Domaine Follin-Arbelet's wines are part of our Burgundy 2020 En Primeur offer, which is live on 10th January 2022.