Camille Giroud: negotiating Burgundy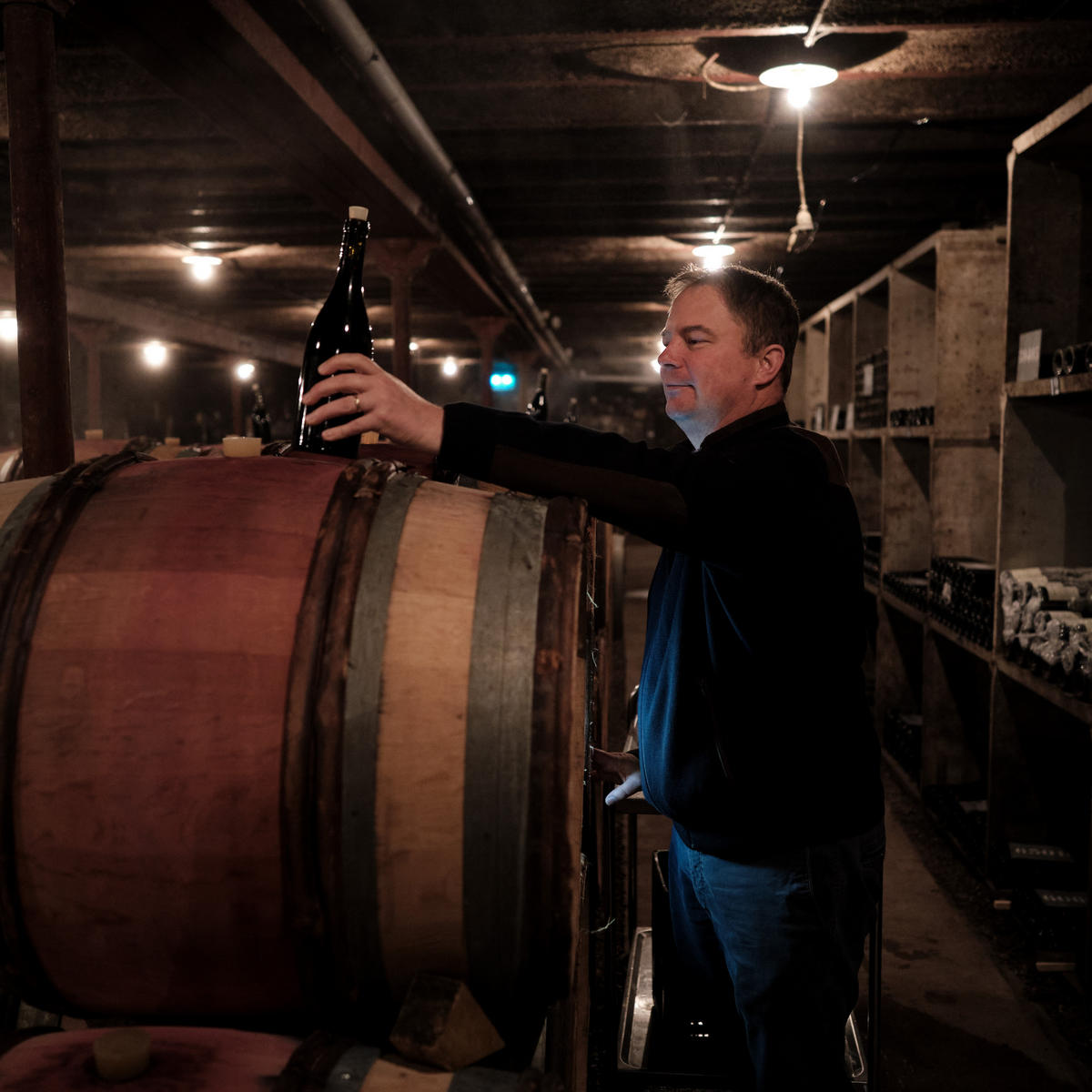 With five vintages leading Maison Camille Giroud under his belt, Carel Voorhuis opens up about his experiences so far – and how the allure of Burgundy proved impossible to resist.
"Vaccinating hundreds of pigs a day wasn't as interesting as I hoped it would be," says Carel Voorhuis, who relinquished his veterinary studies in the late 1990s to become a winemaker. Since 2017, Carel has headed up Maison Camille Giroud in Beaune. It's here that we meet him on a particularly foggy October morning.
Other than his surname and Dutch passport, there's very little about Carel that would mark him as an "outsider". He has made wine in Burgundy since 2002. He sees his fellow producers – be they vignerons or négociants – as "colleagues, not competitors".
FOLLOWING FOOTSTEPS
When he joined Camille Giroud, he followed in the footsteps of well-respected winemaker David Croix. But Carel's task was more about fine-tuning than changing direction. "The big change occurred when David arrived," Carel explained. That was in 2001, when the Giroud family sold the company to a consortium of American investors, including Ann Colgin of Colgin Cellars in the Napa Valley.
The maison's erstwhile reputation had been for highly tannic wines intended for long-term ageing. "They were often too austere as young wines," Carel says. "They needed a lot of time. I think David refreshed that style. The wines now have more fruit and are much more approachable. They are no less age-worthy – just more balanced, with riper tannins."
Carel has kept much the same: the team, the equipment, and by and large, the range of wines. Though he has made incremental changes in the cellar. "We moved forward with trends that David started," he says. "There's maybe a bit more fruit," he says, "more softness, more velvety tannins. But I don't think that's a big change."
Notably, Carel uses less sulphur when crushing the grapes. "We are not into the 'vin nature' thing," he is quick to clarify, "but using no or low sulphur at crush will lead to wines with softer tannins; more open, more aromatic wines."
Like David, Carel is a proponent of whole-bunch fermentation. "I've increased the overall percentage we use, and the number of cuvées we use it for," he explains. "It's not 100% and it's not for every cuvée. But when the grape quality allows it, when it fits with the terroir, it gives results that are much more interesting than de-stemmed cuvées. Wines made with stems are more elegant, more complex, more unique – and more typically Burgundian."
THE NÉGOCIANT BUSINESS
Camille Giroud is a négociant rather than a domaine. It owns and operates tiny holdings in Beaune and the Hautes-Côtes de Beaune. Though for most wines – and there are a lot – Carel sources fruit from other winegrowers. He is a particular champion of some of Burgundy's more southerly communes, with notable cuvées from Santenay, Maranges and Mercurey. But this is no corporate machine: Carel faces the same challenges as any small producer – and some that are unique to the négociant model to boot. "It can be quite frustrating, especially in vintages like 2020," he says.
"We depend on the growers," he explains. "Sometimes it's a great partnership. There are some cuvées and vineyards where we've been working with the same vignerons for more than a generation now. These are relationships lasting more than 30 years, and that's great."
Problems occur in vintages such as 2020 (and 2021) where fruit is limited. "In a year with a smaller crop, you just don't get the grapes you were expecting," Carel says. "And that's really frustrating. But that's the way it goes."
In a "normal" vintage, Carel aims to produce between 100,000 and 120,000 bottles overall. In 2020 and 2021, he will make considerably less than that. Owing perhaps to his upbeat demeanour, Carel remains optimistic. "I have to accept it's a small year and that I won't find any new sources," he says. "All the other négociants are in the same situation. We have to accept it."
THE ALLURE OF BURGUNDY
As we tour the cellars, taste his range and discuss the various challenges he faces, Carel's positive outlook never falters. "I have a great job," he beams. "I have to deal with technical aspects, as well as sales, finance and the general management of the property. And that just makes it very interesting. No two days are the same."
It's not just the day-to-day Carel loves, but Burgundy as a whole: "To me, Burgundy is the most fascinating wine region in the world," he says. "With just two varieties, having such a huge diversity of different wines, and trying to understand, vintage after vintage, how terroirs work; and how that translates into the finished wine. It's just fascinating."
Camille Giroud's wines are part of our Burgundy 2020 En Primeur offer, which is live on 10th January 2022.