Berry Bros. & Rudd then and now: logistics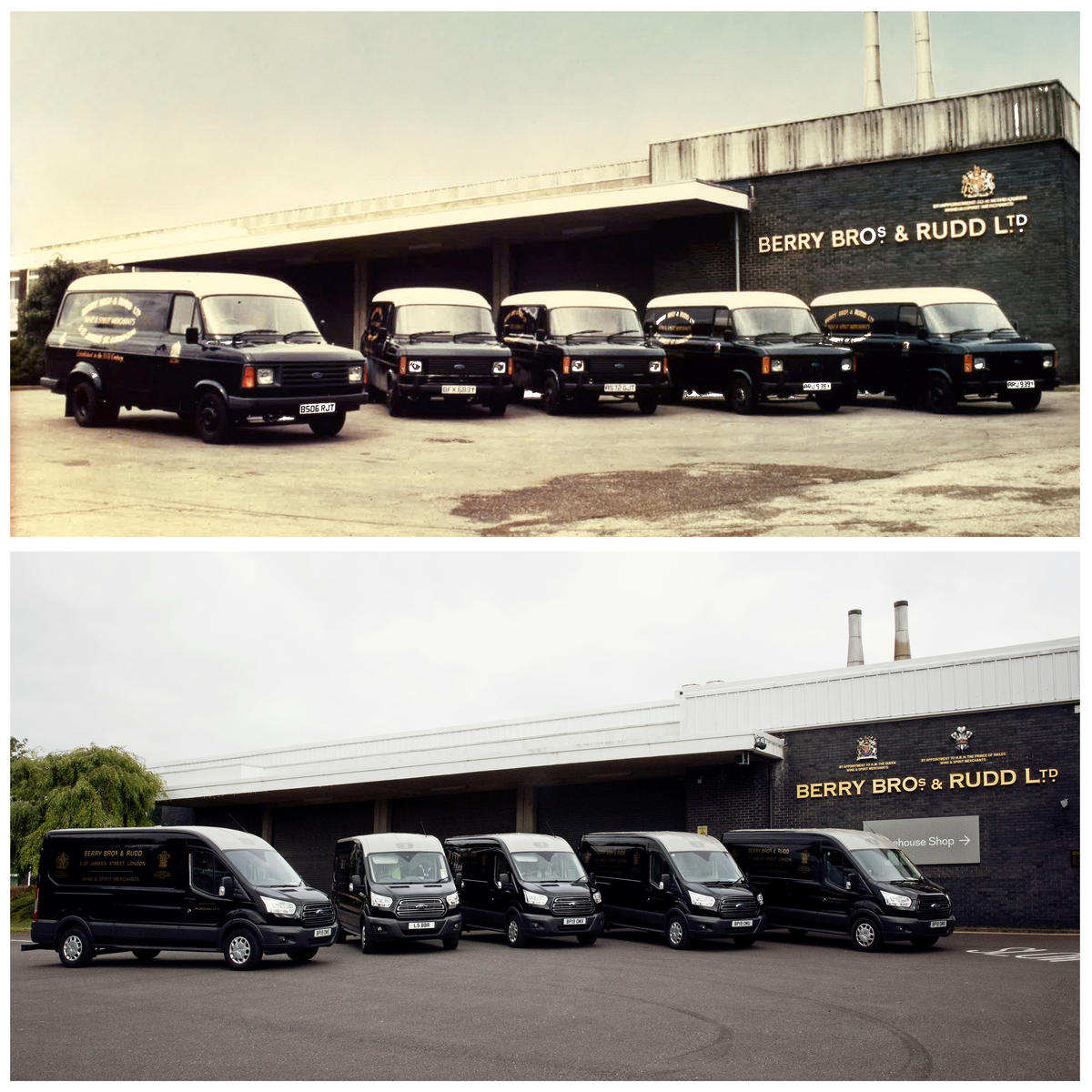 As we celebrate our 325th anniversary this year, we've been looking at what has changed in those three centuries. Examining various parts of our business, we explore how things are different now and what we might see in the future.   
In the first part of this series, Alexandra Gray de Walden looks at a bottle's journey from when an order is placed to being delivered to the customer ‒ with the help of some long-standing colleagues.
A foot in the past
Had you visited the Berry Bros. & Rudd shop at No.3 St James's Street in the late 1970s, you would have been greeted, not as you may expect, by walls of Burgundy and Claret staring out at you. Instead, you were greeted by the ding of a shop doorbell, mahogany bureaus and salesmen in shirts and ties crunching numbers in leather-bound ledgers. Former Chairman, Anthony Berry famously wondered why anyone would want to look at a bottle label in a shop anyway. The wines would be much better off being cellared downstairs ‒ away from the vibrations, light and fluctuating temperatures above.
Once, all our bottles were kept from view in the two acres of cellars under our historic home. But now things are rather different. Our "Old Shop" still retains its wood panelling, bureau desks and the occasional appearance from a smartly dressed colleague. However, this is no longer the gatekeeper's lodge you must pass through in hope of acquiring something delicious to drink tonight.
Just around the corner, you will find our London Shop on Pall Mall, opened in 2017. From here, you can look at the labels of hundreds of bottles of wine and spirits, marvel at the storage conditions of the Fine Wine Reserve and taste excellent wines from the Enomatic machines. Instead of wood-panelled walls, you'll find reams of bottle racks. But look up. The ceiling is hung with 100-year-old barrels imported from France ‒ a nod to the wooden lining of our former retail space and the product we are famed for selling.
Just as the reach of our property has expanded, so too has our retail business. We have our Basingstoke Shop in Hampshire and we were the very first wine merchant to launch a website. Today, bbr.com is a vital component of our global business. Here, customers from all over can peruse our retail stock and the wines listed on our fine wine exchange, BBX ‒ all from the comfort of their own homes. Even prior to the building of our state-of-the-art Basingstoke warehouse in 1967, we were determined to keep our rural customers well stocked with their wines of choice. In a 1954 edition of our own No.3 magazine, Berry Bros. & Rudd offered "free delivery of country orders" which would be "sent by goods train, carriage free, unless we are instructed otherwise."
Butlers and bottling
The age of bowler-hatted butlers coming into No. 3 to collect the household's wine order is now a distant memory. But how have our logistics moved on from that era? Chris Layland, Head of Warehouse Operations in Basingstoke takes us through the bottle's journey from when you place your online order to it arriving at your door.
"As soon as an order is placed, it's date stamped. As we offer three-working-day delivery, this is so we know when the order needs to arrive with the customer," Chris explains. "Our Despatch team take that day's orders and assign them to delivery zones. These zones are then assigned to one of our own, branded delivery vans or a courier. At least 24 hours before it is due for delivery, Despatch release the order to the warehouse for picking."
It wasn't that long ago that some of our wines were even bottled on-site, prior to delivery. Our bottling hall, now the Basingstoke Shop, was where many of our own Ports and Sherries, as well as our staple Good Ordinary Claret, were bottled.
Gary Skeats, Senior Warehouse Operative, joined Berry Bros. & Rudd in August 1977, starting on the bottling line. "You'd have a cask of Port set up in front of you on railway sleepers and you would have to tap it. Then you open the tap, fill the bottle and give it to your bottling partner who would cork it and put it through a machine to cap it. One cask would take all day."
Formerly, once a customer had made an order a request would go to the cellars at No.3 from the shop floor. Somebody from the cellars would then heave a case of wine upstairs to the shop for the customer to collect. Fast forward to the present day and this is when the 51 employees in the Basingstoke warehouse take over.
A driving force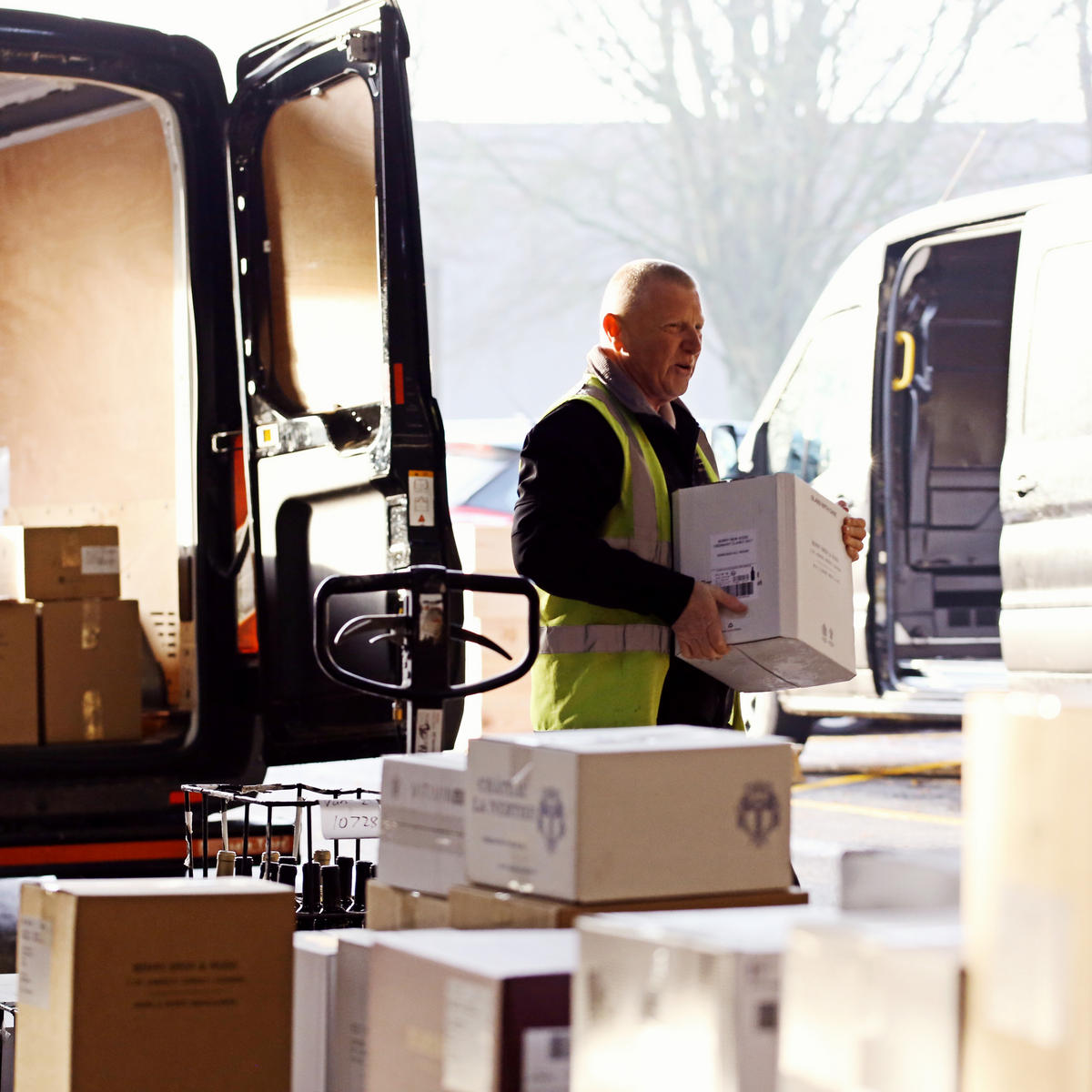 Our warehouses are all designed to keep wines in optimum conditions. This includes controlling temperature to within half a degree, vibration absorption and minimising the movement of stock which is for laying down. Wines are even acclimatised to their new surroundings upon arrival to avoid bottle shock or the ill effects of temperature changes. Each wine has its own storage area in the warehouse, so orders are picked from their various locations and brought to the front of the warehouse for packing. Bottles are then boxed and a customer label placed on their order package before being trolleyed to the loading bay. "Each packing location has its own delivery zone," Chris continues. "They're tied up by geographical area, so you'll usually get the same driver going to a similar part of the country each day. Some customers know their regular driver by name and have even been visited by them for 10-plus years."
Anybody who has ever been greeted by the smiling driver of a dark green Berry Bros. & Rudd van will appreciate the pride they have in representing this historic company. Site Services Manager, Alan Poole, joined the company as a Warehouse Operative in 1983 and fondly remembers some of the stricter requirements our drivers once adhered to. "When I joined, all the drivers had a Welsh and Jefferies Savile Row suit. The generation before that had a peaked cap as well. You'd go and get measured for your three pairs of trousers and your jacket. Then you'd be given your blue Cutty Sark tie and blue Marks and Spencer shirts. And they did look smart."
Often when looking back on times past, it can be easy to get lost in nostalgia. Instead of yearning for the days of Savile Row suits and bowler hats, it's important to remember as Alan tells us: "It wasn't better or worse than now. It was just different."
To find out more about the history of our London Shop, please click here.