An island story: Tobermory's 25-Year-Old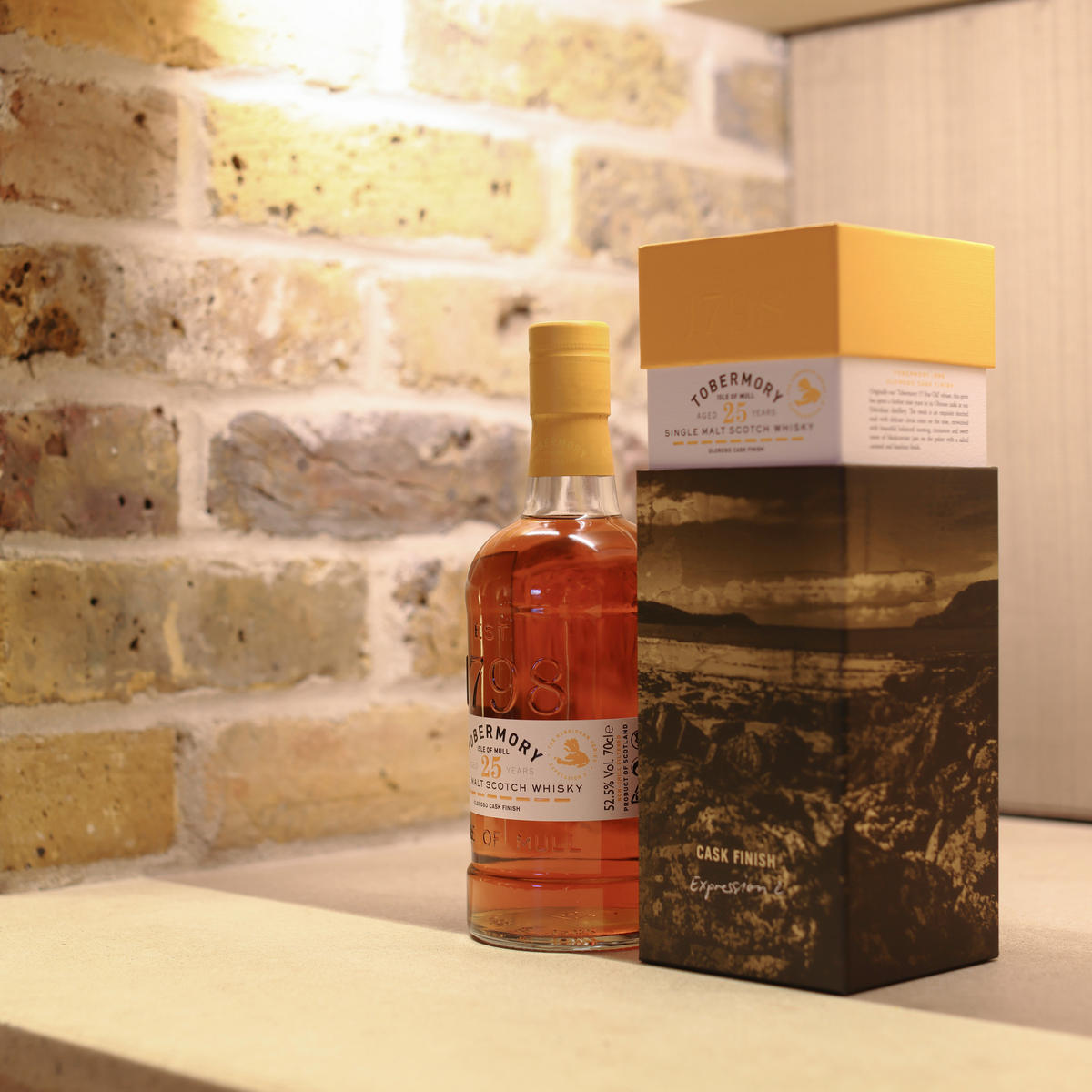 The Tobermory 25-Year-Old single malt Scotch whisky is the third release in the distillery's Hebridean Series. At its launch last week, Alexandra Gray de Walden discovered the delights this dram, the Tobermory Distillery and the Isle of Mull have to offer.
A sense of place
Tobermory Distillery is an institution steeped in history. Originally opened in 1798, it has overcome periods of closure and almost, never opened at all. Local kelp merchant, John Sinclair, had his initial application to build the distillery rejected. Thankfully, he didn't fall at that first hurdle.
We were honoured to be the exclusive retailer of Tobermory's 25-Year-Old for two weeks. We were, therefore, delighted to host the dram's official launch in the Sussex Cellar at No.3 St James's Street on 24th February. Scottish flora graced the dining table and evocative images of the Isle of Mull decked the walls. These arresting pictures were captured by wildlife filmmaker and former Mull resident Gordon Buchanan.
Family values
Born and bred on the island, Gordon well remembers the aromas of the fermentation process wafting from the distillery. "It was better than the smell of rotting mackerel coming from the other end of the village" he reminisces. Gordon's links with Tobermory run deeper than geography and are something of a family affair. His mother was Assistant Manager at the distillery, where she met Gordon's step-father, then the Distillery Manager. "My brother then became a stillman at Tobermory in the 1990s," Gordon continues. "I am proud to say that all today's Tobermory whiskies passed through the copper stills under his watch." Gordon is now working with Tobermory to promote the island and its amber nectars.
From coast to coast
The hue of Tobermory's 25-Year-Old whisky is not far removed from that oft-overused descriptor. Its all-natural colour is extracted from the ex-Gonzalez Byass Oloroso Sherry casks in which it is matured. The notes of ocean kelp and sea spray on the palate evoke images of Tobermory's coastal position. These flavours are no doubt bolstered by the salty sea air of Spain's coastal Sherry region which these casks once called home.
The 25-Year-Old is the third of five annual releases in Tobermory's Hebridean Series. Each one is made with liquid from Tobermory's 15-Year-Old (originally released in 2008) and exhibits the evolution of the dram's flavours and structures with each passing year. Cinnamon, nuts and caramel jump to the fore on the nose. These three flavours are all associated with the oxidative ageing process of Oloroso Sherry – another obvious clue to this whisky's maturation vessel. There is a delightfully oily, almost unctuous texture which paves the way for that whisky warmth you might expect.
Purity led production
It is worth noting that this is a non-chill filtered whisky. Many whisky specialists and enthusiasts alike argue that when a whisky is chill filtered, it has a negative and reductive impact on the liquid. It can be thought to remove certain elements from the liquid which would otherwise add to its texture, flavour and sense of place.
As the flavours move through the mid-palate, strong citrus notes present themselves with ripe lemon playing the starring role. This has a beautifully cleansing and refreshing mouth-feel and welcomes the integrated tickles of black pepper and all-spice. The opening sweetness returns on the finish when that initial caramel reappears in a salted guise with suggestions of Caledonian heather-infused honey.
Tobermory: people and place
Julieann Fernandez is Master Distiller at Distell, Tobermory's parent company. She started her working life in forensics. Clearly with a bent for all things science, she has put this passion (and pride for her national liquid) to excellent use in her work with Tobermory. In art there is science and vice versa.
Anybody who has been lucky enough to visit the village of Tobermory will long recall the happy colours of the houses which line its iconic seafront. Each release in the Hebridean Series is packaged in boxes of a different colour taken, of course, from the village's architectural palette. Put together on the collector's shelf, they would make quite the flattering homage to this site.
For a small distillery, Tobermory certainly punches above its weight – and this 25-Year-Old release is no exception.
Discover the 25-Year-Old single malt here.