Ch. Montrose: leading the sustainability conversation
This family-owned estate is at the forefront of the sustainable winemaking conversation in Bordeaux. For more than 15 years, Château Montrose has been championing vineyard health, waste management and greener ways of thinking. Here, we speak with Sales Director Lorraine Watrin.
Bicarbonate of soda is a rather unlikely product for a Bordeaux wine estate, but Château Montrose ships out tonnes of the stuff every vintage. Capturing the carbon produced during fermentation, and recycling it into this useful by-product, is just one of the innovations that demonstrate how far the estate is pushing its sustainability agenda.
Ch. Montrose is one of the leading lights of St. Estéphe, with a reputation that is bolstered by every passing vintage. Its grand vin is a particular favourite of the Berry Bros. & Rudd team.
"When the current owners took over the property in 2006, they had a vision," explains Lorraine Watrin, Sales Director at Ch. Montrose. "We had a goal to reveal the beautiful riches of the terroir; but also a vision of sustainability, enabling the owners to hand this on to their children, and the children's children because this is a family company. It's a very important mindset: to preserve the riches of the terroir for the next generation."
Data and nature at work
Low-intervention winemaking is one thing but, at Ch. Montrose, nature is getting a significant helping hand from data. The estate is currently carrying out a detailed study of its holdings. "The goal is to study the specificity of each plot," says Lorraine. "Ch. Montrose is one huge, single vineyard – 130 hectares in one block. But within that you have forest and herbs and different terroirs."
Understanding these precise microclimates, and how climate change is impacting them, is the key to Montrose's long-term view. "Within the plot, the climate at the bottom of the slope is different to the top of the slope; we want to study that in relation to the soil and humidity," says Lorraine. "We want to see whether better-adapted varieties can be planted. For example would it be better to plant some Petit Verdot instead of Cabernet Sauvignon. We're looking at which of our massal selection Merlot, or massal selection Cabernet Sauvignon will be best adapted."
So will the overall composition of the vineyards be changing? "You cannot talk about Ch. Montrose without talking about Cabernet Sauvignon," says Lorraine. "Yes, we are going to increase the proportion of Cabernet Sauvignon for two reasons. Firstly, because of climate change because the temperature is going higher and it can cope with this. And also because the Cabernet is the signature of Ch. Montrose."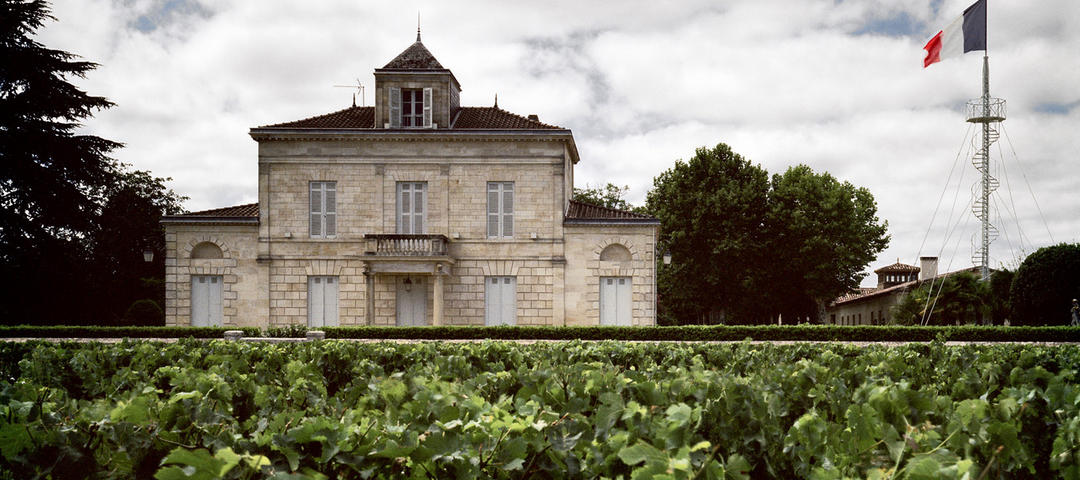 Organic, but not certified
Ch. Montrose practices organic viticulture but, so far, they've eschewed certification. "We don't use chemicals any more, we only use natural products and we practice organic viticulture, but we're not certified," says Lorraine. Like many winemakers, the necessary paperwork is a barrier – but for Montrose it's more than that. Certification would stand in the way of their innovation.
"We aren't certified, and we're not looking for certification. Certification is hard – the paperwork and so on – but also we have a research and development programme to look for new alternative products in the vines. This means that some of those products – even though they are natural – are not in the approved list for organic certification." If they were certified, this research wouldn't be allowed.
Innovation beyond the vineyard
In addition to a flagship solar-panel green energy scheme, electric tractors, a laudable waste management programme, and a water recycling plant is Montrose's real headline-grabbing initiative: its carbon capture facility. Lorraine explains they brought in outside consultants to help devise a system that could work around the clock. "When alcoholic fermentation has started, it has started – it's running day and night," Lorraine says.
"We were struggling to capture all the carbon at night, and we needed an autonomous system that could run by itself. When we started, we captured four tonnes of bicarbonate of soda. In 2020, even though the yield was low, we managed to capture 10 times that. When we have a normal crop, we should produce around 80 tonnes."
No such thing as a normal vintage
Perhaps a normal yield and a normal vintage is a thing of the past? "It's hard to make predictions," Lorraine says. "It's certainly different to when I was a little girl. One thing's for sure, and that is that the climate is changing and it's not stable," she explains.
But Montrose isn't shrugging its shoulders. "We have to look around us and make changes step by step," Lorraine says. "Here, we are in the middle of nature – we're by the river, which is three kilometres across, and helps us regulate temperature. Nature is doing good things. When we farm with birds and insects and biodiversity, nature can manage itself." These things, Lorraine explains, help Ch. Montrose support their vision of the future – one for the next generation.
Ch. Montrose's wines are a part of our Spotlight on sustainability offer